Mumbai Utility Services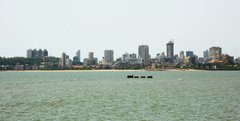 The BMC supplies potable water to the city most of which come the Tulsi and Vihar lakes, as well as a few lakes further north. The water is then filtered at Bhandup, which is also Asia's largest water filtration plant.
The BMC is also responsible for the road maintenance and garbage collection in the city. Almost all the city daily refuse of 7,800 metric tonnes is transported to dumping grounds in Gorai in the northwest, Mulund in the northeast and Deonar in the east. Sewage treatment is carried out in Worli and Bandra.
Electricity is provided by the BEST in the city and by Reliance Energy in the suburbs. Most of the city's electricity is hydroelectric and nuclear based. The government owned MTNL is the largest telephone service provider in the city, ascribed to the fact that it was a monopoly till 2000.
It provides fixed line services as well as mobile WLL services. Cell phone coverage is extensive and the main service providers are Orange, Airtel, BPL group, Reliance Infocomm and Tata Indicom. Both GSM and CDMA services are available in the city. Broadband internet penetration is increasing in the city with MTNL and Tata being the leading service providers.
Telangana History | kerala History | Chhattisgarh History | Gujarat History | Himachal Pradesh History | Jharkhand History | Madhya Pradesh History | Manipur History | Karnataka History | orissa History | Punjab History | Rajasthan History | Sikkim History | Tamil Nadu History | Uttarakhand History | Uttarpradesh History | Tripura History | Meghalaya History | West Bengal History
Mumbai News | Hospitals in Mumbai | Mumbai Administration| Mumbai Climate| Mumbai Culture| Mumbai Demographics| Mumbai Economy| Mumbai Education| Mumbai Geography| Mumbai History| Mumbai Media| Mumbai Sports| Mumbai Transport| Mumbai Utility| Restaurants In Mumbai | Mumbai Classifieds |More About Mumbai