Mumbai Transport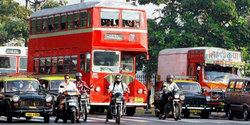 Most of the city inhabitants rely on public transport to travel to and from their workplace, due to the paucity of parking spaces and traffic bottlenecks. The backbone of the city's transport, the Mumbai Suburban Railway, is composed of three rail networks and runs along the length of the city. The Western Railway runs along the western region of the city, while the Central Railway covers most of the central and northeast parts of the metropolis. Both these lines extend to the exurbs of the city, each covering a total one-way length of around 125 km.
The Harbour Line is a sub-division of the Central Railway, covering a distance of 54 km along the extreme east areas of the city region near the docks and extending into New Bombay.
Public buses run by the BEST (an autonomous body under the BMC) cover almost all parts of the metropolis as well as parts of New Bombay and Thane. Buses are used for short to medium distance commuting as train fares are more economical for long distances. The BEST fleet consists of single-decker, double-decker, air-conditioned and vestibule buses. The BEST also operates ferries across creeks in northern Mumbai.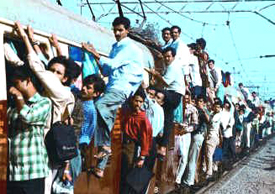 Black and yellow metered taxis, accommodating up to four passengers, cover most of the metropolis. Auto rickshaws, allowed to operate only in the suburban area, are the main form of hired transport there. These three-wheeled vehicles can accommodate up to three passengers.
Mumbai's Chatrapati Shivaji International Airport is the busiest airport in India. The international terminals 2A,2B and 2C (all connected in the form of a crescent shaped building) are at Sahar near Andheri The Cargo Complex is also in Sahar. The domestic terminals 1A (Jet Airways, Air Sahara, Deccan Air, SpiceJet) and 1B (Indian Airlines/Alliance Air Kingfisher) is at Santacruz. The nearby Juhu aerodrome was India's first airport and now hosts a flying club and a heliport. It is also the headquarters of Pawan Hans.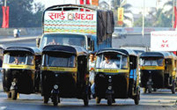 Mumbai is well connected by trains to all parts of India. The city is also the headquarters of two rail divisions, the Central Railway (CR) headquartered at Chatrapati Shivaji Terminus (formerly known as Victoria Terminus) and the Western Railway (WR) headquartered at Mumbai Central. With its unique topography, Mumbai has one of the best natural harbours in the world handling 50% of the country's passenger traffic and much of India's cargo. It is also an important base of the Indian Navy.
Telangana History | kerala History | Chhattisgarh History | Gujarat History | Himachal Pradesh History | Jharkhand History | Madhya Pradesh History | Manipur History | Karnataka History | orissa History | Punjab History | Rajasthan History | Sikkim History | Tamil Nadu History | Uttarakhand History | Uttarpradesh History | Tripura History | Meghalaya History | West Bengal History
Mumbai News | Hospitals in Mumbai | Mumbai Administration| Mumbai Climate| Mumbai Culture| Mumbai Demographics| Mumbai Economy| Mumbai Education| Mumbai Geography| Mumbai History| Mumbai Media| Mumbai Sports| Mumbai Transport| Mumbai Utility| Restaurants In Mumbai | Mumbai Classifieds |More About Mumbai