Mumbai Climate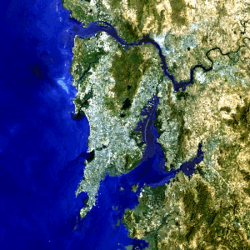 The city, being in the tropical zone and near the Arabian Sea, does not experience distinct seasons, but the climate in Mumbai can broadly be classified into two main seasons - the humid season and the dry season. The humid season, between March to October, is characterised by high humidity and temperatures of over 30 °C (86 °F).
The monsoon rains lash the city of Mumbai during June to September and supply most of the city's annual rainfall of 2,200 mm (85 in). The maximum annual rainfall ever recorded was 3,451.6 mm (135.89 in) in 1954. The highest rainfall recorded in a single day was 944 mm (37.16 inches) on 2005-07-26.
The dry season, between November and February, is characterised by moderate levels of humidity and warm to cool weather. Cold northerly winds are responsible for a high wind chill factor during January and February. The annual temperatures range from a high of 38 °C (100 °F) to a low of 11 °C (52 °F). The record high is 43 °C (108 °F) and record low is 7.4 °C (45 °F) on 1962-01-22.
Telangana History | kerala History | Chhattisgarh History | Gujarat History | Himachal Pradesh History | Jharkhand History | Madhya Pradesh History | Manipur History | Karnataka History | orissa History | Punjab History | Rajasthan History | Sikkim History | Tamil Nadu History | Uttarakhand History | Uttarpradesh History | Tripura History | Meghalaya History | West Bengal History
Mumbai News | Hospitals in Mumbai | Mumbai Administration| Mumbai Climate| Mumbai Culture| Mumbai Demographics| Mumbai Economy| Mumbai Education| Mumbai Geography| Mumbai History| Mumbai Media| Mumbai Sports| Mumbai Transport| Mumbai Utility| Restaurants In Mumbai | Mumbai Classifieds |More About Mumbai