Mumbai Sports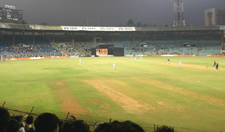 Cricket is the most popular sport in the city and is usually played in the maidans (grounds) around the city. Gully cricket, a modified form of cricket, is played in the narrow gullies in the city especially on Sundays. International cricket is widely watched, and the city almost comes to a standstill on days when the Indian cricket team plays important matches.
The city has two international cricket stadiums, the Wankhede Stadium and the Brabourne Stadium. The local Mumbai cricket team is one of the strongest domestic teams that compete in the national Ranji Trophy, the nation's top domestic cricketing event.
Football (soccer) is the second most popular sport. The city has its own clubs and the football season is played during the monsoons, when other outdoor sports cannot be played. The Football World Cup is one of the most widely watched television events in Mumbai. Hockey, India's national sport, has gone into a sharp decline in the recent years, losing out in terms of popularity to cricket, though many players who make up the national team are from Mumbai.
Other sports are mostly played in the numerous clubs and gymkhanas and include tennis, squash, billiards, badminton, table tennis and golf. Mumbai also has a rugby club, the only one in the country. Every February, Mumbai holds the Derby equestrian races in the Mahalaxmi Racecourse.
The event sees many of the city's glitterati attending, arrayed in the latest fashions. In recent times Formula 1 racing has also caught the public's attention. Other sports such as volleyball and basketball are mostly popular in schools and colleges.
Telangana History | kerala History | Chhattisgarh History | Gujarat History | Himachal Pradesh History | Jharkhand History | Madhya Pradesh History | Manipur History | Karnataka History | orissa History | Punjab History | Rajasthan History | Sikkim History | Tamil Nadu History | Uttarakhand History | Uttarpradesh History | Tripura History | Meghalaya History | West Bengal History
Mumbai News | Hospitals in Mumbai | Mumbai Administration| Mumbai Climate| Mumbai Culture| Mumbai Demographics| Mumbai Economy| Mumbai Education| Mumbai Geography| Mumbai History| Mumbai Media| Mumbai Sports| Mumbai Transport| Mumbai Utility| Restaurants In Mumbai | Mumbai Classifieds |More About Mumbai