Mumbai Geography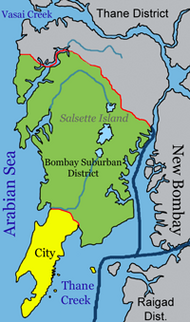 Mumbai is located on Salsette Island which lies at the mouth of Ulhas River off the western coast of India in the coastal region known as the Konkan. Most of Mumbai is at sea level and the average elevation ranges from 10 to 15 metres. The northern part of Mumbai is hilly and the highest point of the city is at 450 metres (1,450 feet). Mumbai spans a total area of 468 km² (169 sq miles). The metropolitan area spans an area of 4355 sq kms (refer MMRDA basic statistics).
Within the metropolitan limits are present three lakes - the Tulsi Lake, Vihar Lake and the Powai Lake. The first two are present within the Borivali National Park and supply part of the city's drinking water. Mumbai also has three small rivers within the city limits originating in the National Park. The coastline of the city is indented with numerous creeks and bays. On the eastern seaboard, large mangrove swamps rich in biodiversity occupy most of the region.
Soil cover in the city region is predominantly sandy owing to its proximity to the sea. In the suburbs the soil cover is largely alluvial and loamy. The underlying rock of the region is composed of black Deccan basalt flows and their acid and basic variants dating back to the late Cretaceous and early Eocene geological eras. Mumbai sits on a seismically active zone owing to the presence of three fault lines in the vicinity. The area is classified as a Zone III region, which means an earthquake of magnitude of up to 6.5 can be expected.
Mumbai is classified as a metropolis of India, under the jurisdiction of the Brihan Mumbai Municipal Corporation. It consists of two discrete regions - the City and the Suburbs, which also form two districts of Maharashtra. The city region is also commonly referred to as the Island City by most media publications.
Telangana History | kerala History | Chhattisgarh History | Gujarat History | Himachal Pradesh History | Jharkhand History | Madhya Pradesh History | Manipur History | Karnataka History | orissa History | Punjab History | Rajasthan History | Sikkim History | Tamil Nadu History | Uttarakhand History | Uttarpradesh History | Tripura History | Meghalaya History | West Bengal History
Mumbai News | Hospitals in Mumbai | Mumbai Administration| Mumbai Climate| Mumbai Culture| Mumbai Demographics| Mumbai Economy| Mumbai Education| Mumbai Geography| Mumbai History| Mumbai Media| Mumbai Sports| Mumbai Transport| Mumbai Utility| Restaurants In Mumbai | Mumbai Classifieds |More About Mumbai