Mumbai Economy
Mumbai - the making of a global township
India's economic bell weather is Mumbai for the metropolitan city is far ahead in terms of industrial growth, financial services and commercial exchanges compared to rest of the country.
Due to a host of financial and trade services that occurs in Mumbai, the capital city of Maharashtra on the western flank of India is able to provide a high standard of living to the rich and mighty.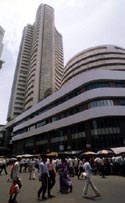 At the same time, slums and ghettoes co-exist with towering skyscrapers bringing to sharp relief the paradox of Mumbai as such contrasting images dominate its landscape.
A group of seven fishing islands -- Isle of Bombay; Colaba; Old Woman's Island (Little Colaba); Mahim; Mazagaon; Parel and Worli -- were merged through land reclamation in 1845 to form Bombay.
The island of Bombay was later merged with the nearby islands of Trombay and Salsette that lay to its north-east and north respectively to form Greater Bombay.
Commercial hotspot of India
Mumbai has carved a unique position for itself in commerce, fashion and movie industry.
It is also one of the world's top 10 centres of commerce in terms of global financial flow.
Mumbai accounts for slightly more than 6.16% of India's economy contributing 10% of factory employment, 30% of income tax collections, 60% of customs duty collections, 20% of central excise tax collections, 40% of foreign trade and Rs 40,000 crore (US $10 billion) in corporate taxes to the Indian economy.
The mega city is headquarters to a number of financial institutions and regulatory authorities that monitor the growth of industries playing a vital role in keeping the momentum of economic growth across the country.
Most of the billionaire-club corporates -- Tata group, Reliance Industries, Aditya Birla Group, Essel Group, Jet Airways and Bharti Airtel, to name a few -- have made Mumbai their office headquarters for ease of convenience.
Many foreign companies also have their branches in the South Bombay area.
Mumbai is the world's 29th largest city in terms of GDP size and was ranked among the top fastest cities in India for business start-ups in 2009.
As of 2009-10, Mumbai has a per capita income of $2,845. This is 16.6% higher than 2008-09 levels of $2,440. In PPP (purchasing power parity) dollars, Mumbai had a per capita income of $7,050 as of 2009-10 fiscal.
At present, Mumbai's per capita income is a little more than three times that of India.
Estimates by the UN suggest that Mumbai is likely to have a population of around 27 million inhabitants by 2020, and will be world's second most populous city after Tokyo.
In the recent years Mumbai is experiencing rapid growth. By 2020-21 fiscal, Mumbai's GDP per capita at PPP is expected to reach US$23,000, making it South Asia's richest city.
From textiles to giant industries
Mumbai has traditionally owed its prosperity to textile mills and its seaport till the 1980s. Now due to giant strides in development, mega corporations (and factories) have replaced traditional mills and SSI units as the former employ skilled labour with the induction of modern technologies.
Besides, Mumbai has combined both its knowledge power and traditional skills to give a boost to diverse sectors like high-tech engineering, gems and diamond polishing, healthcare and software.
The entire financial architecture of the country is centred in Mumbai.
Both the major Indian stock exchanges -- the BSE and the National Stock Exchange, brokerages, asset management companies (including majority of the mutual fund companies), headquarters of most Indian state-owned and commercial banks, as well as the financial and monetary regulatory authorities of India (SEBI and RBI among other institutions) have their sprawling head offices in Mumbai.
Being the capital of Maharashtra, the commercial hub is also a vast residential quarters for government employees who make up for a large percentage of the Mumbai workforce.
Migrant workforce of Mumbai
Each year lakhs of people from other states of India migrate to Mumbai and its suburbs in search of job opportunities.
Given the growing potential of Mumbai to emerge as one of the robust cities of the world in the near future, the extended Mumbai metropolitan areas open up new avenues for employment and livelihood for these migrants, both skilled and unskilled, who flock to this port city.
Moreover, the unskilled workers like hawkers, retail vendors, taxi drivers, mechanics and dabbahwallahs earn a sizeable amount by serving the needs of rich, influence people on a day-to-day basis.
The port and shipping industry too employs many residents directly and indirectly. Like most metropolitan cities, Mumbai also has a large influx of people from rural areas looking for employment.
Bollywood: The dream factory
Hindi movie industry churns out nearly 1,000 films a year with a market audience of 3.6 billion (both domestic and foreign cinemas), which is more than half of the world's population.
It is difficult to quantity the exact income generated by Bollywood, as the Hindi film industry is better known, given the wide variations in the collection figures released by the box office sources.
But one thing is for sure, lakhs of people who come to Mumbai with the hopes of making it big in Hindi cinema are employed in the movie-making business in one way or other.
Most of India's television and satellite networks are located in Mumbai.
In order to cater to their demand for programmes and reality shows, private studios have mushroomed to produce a wide variety of TV content like mega-soaps, family dramas and filmy-based stuff that are beamed non-stop in the channels.
Booming real estate industry
The rise and rise of Mumbai has totally redrawn its skyline mostly notably in South Mumbai, the residential hub of the elite and celebrities.
The property developers have acquired vast tracts of land abandoned by mill owners and built high-rise residentials with spacial landscaping to attract the money-wielding class.
A mega structure called World One Tower is expected to be completed by 2016 and is touted as a glass-and-steel wonder consisting of 117 stories in all.
Once fully completed World One Tower will become one of the tallest marvels in the world attracting the elite, film stars, Europeans and the powerful class in India.
Moreover, the Mumbai Port Trust intends to close polluting firms and streamline operations which will release nearly 1,800 acres of docklands for real-estate business in South Mumbai.
The port has drawn up tentative plans to subdivide this huge parcel of land for open spaces like parks, playgrounds and arena for social gatherings, apart from setting aside a good portion of land for mixed-use residential purposes.
Telangana History | kerala History | Chhattisgarh History | Gujarat History | Himachal Pradesh History | Jharkhand History | Madhya Pradesh History | Manipur History | Karnataka History | orissa History | Punjab History | Rajasthan History | Sikkim History | Tamil Nadu History | Uttarakhand History | Uttarpradesh History | Tripura History | Meghalaya History | West Bengal History
Mumbai News | Hospitals in Mumbai | Mumbai Administration| Mumbai Climate| Mumbai Culture| Mumbai Demographics| Mumbai Economy| Mumbai Education| Mumbai Geography| Mumbai History| Mumbai Media| Mumbai Sports| Mumbai Transport| Mumbai Utility| Restaurants In Mumbai | Mumbai Classifieds |More About Mumbai