Mumbai Demographics
The population of Mumbai is over 17 million residents at a density of 45,662 persons per square kilometre. There are 811 females to every 1,000 males. The smaller ratio of female-male population is owing to the fact that many working males in the city leave their families in rural areas where they hail from. The total literacy rate is 77%, which is higher than the national average.
Out of this figure 82% of adult males and 71.6% of adult females are literate. Hindus comprise 68% of the population, Muslim 17%, Christian 4% and Buddhist 4%. The remaining are followers of Parsi, Jain, Sikh and Jewish religions and atheist ideology.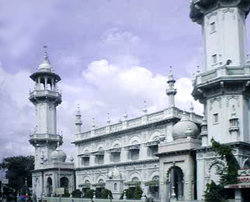 For a city of its size, Mumbai has a moderate crime rate. Mumbai recorded 27,577 incidents of crime in 2004, which is down 11% from 30,991 in 2001. The city's main jail is the Arthur Road Jail.
Mumbai has a large polyglot population but the most common language spoken on the city streets is a colloquial form of Hindi, known as Bambaiya Hindi, which is a blend of Hindi, Marathi, Indian English and a few invented colloquial words. Marathi is the official language of the state of Maharashtra. English is also extensively spoken and is the principal language used by the city's white collar workforce. Other languages spoken in Mumbai include Gujarati, Bengali, Tamil, Urdu, Malayalam, Telugu, Punjabi, Sindhi, Konkani, Nepali and Kannada.
Telangana History | kerala History | Chhattisgarh History | Gujarat History | Himachal Pradesh History | Jharkhand History | Madhya Pradesh History | Manipur History | Karnataka History | orissa History | Punjab History | Rajasthan History | Sikkim History | Tamil Nadu History | Uttarakhand History | Uttarpradesh History | Tripura History | Meghalaya History | West Bengal History
Mumbai News | Hospitals in Mumbai | Mumbai Administration| Mumbai Climate| Mumbai Culture| Mumbai Demographics| Mumbai Economy| Mumbai Education| Mumbai Geography| Mumbai History| Mumbai Media| Mumbai Sports| Mumbai Transport| Mumbai Utility| Restaurants In Mumbai | Mumbai Classifieds |More About Mumbai