Venkateshwara Temple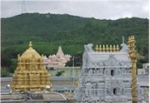 Located on the seventh peak, Venkatachala or Venkata Hill on the southern banks of Sri Swami Pushkarini the Sri Venkateswara temple has gained sanctity in Indian religious lore.
Sri Venkateswara has been described as the great bestower of boons in several epics. The Idol of the Lord of the Seven Hills is located in the sanctum sanctorum or the garbhagriha in the main temple complex of Tirumala. This temple attracts devotees from all over the world.
Varaha Purana and the Bhavishyottara Purana have mentioned Lord Venkateswara.The idol of Lord Venkateshwara is exquisitely and majestically executed. The idol show twin attributes of Vishnu and Shiva, the aspects of a preserver as well as the destroyer of the Hindu Trinity.
This attribute appeals to both the sects, i.e., Vaishnavites and Saivites. The idol is shown with four arms, first one holding a conch, the second a discus, and the third in the abhaya posture while the fourth is resting on the hip. The girdle made of the serpent, an emblem of Lord Shiva, encircles both the front arms. When the Lord is draped in all the fineries and ornamentations to give darshan or on the abhishekha day when all the clothes are removed.
Great festivity mark each day at Tirumala. The annual festival called 'Brahmotsavam' is the most famous festival of the temple is. It is celebrated on a massive scale for nine days in the month of September .It attracts pilgrims and tourists from all parts of the country. Garudostavam and Rathotavam take place on the fifth and ninth days of the festival days.
It is believed that Shiva started from this very place to wed KanyaKumari Amman, but returned when he saw the first day of the light.
Some of the Major Architecture in Ancient & Medieval Times in India