Gangaikondacholapuram, Tanjore
Gangaikondacholapuram was build by King Rajendra Chola, son of Rajaraja Chola as the capital city. The temple called the second Brihadeswara temple and is well -known as the Gangaikkondacholeswara temple. Gangaikondacholapuram was constructed to build a temple, excelling in architectural splendor. There are ruins around 1.5 km away from the temple.
The place is now known as Ulkottai, with a mound called Maligaimedu or the palace-mound.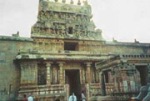 The temple was built during the golden age of the Cholas comparable to the Brihadeswara Temple at Thanjavur in grandeur around 1020-1029 AD. The temple has displayed intricate carvings on the vimana of the temple. This temple is build according to the Northern Chalukyan style on a hard southern granite stone and displays the beauty of the carvings of the temple.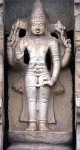 Nataraja, Coronation of king Rajendra Chola by Shiva and Parvati, the Dancing Ganesha and the Ardhanari or the half man-half woman manifestation of Lord Shiva are some the most outstanding and unique sculptures of this temple . A four-meter high lingam lies in the centre of the Sanctum. The royal family used to worship in a private worship area decorated with a well-crafted figure of goddess Saraswati.
The Cholas had meticulously maintained their records through texts in the copper plates and in walls of the temple. One can see anecdotes mentioning about several victories of Rajendra Chola, the land grants made during his period, kings ascend to the throne etc. Gangaikondacholapuram though took long time to complete it remained a favorite place for the monarchs to ascend the thrones.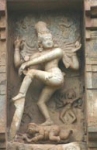 The temple unfortunately was looted several times and also used as a garrison and fortified cantonment by the Pandyas and later on by the British. This temple remains a standing testimony to the craftsmanship of architects and the finesse of artists who created this architectural wonder.
Some of the Major Architecture in Ancient & Medieval Times in India