Kiradu Temples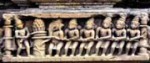 The Kiradu group of temples situated near the village Hathma is 43 km away from the Barmer region in Rajasthan. According to the inscriptions dating 1161 AD the ancient name of this place was Kiratakupa .
It was once the capital of the Punwars. The temples representing the Gurjara-Pratihara sub-style of the Nagara or North Indian Style of Temple Architecture were built around c. 1000 AD and later.
The Vishnu temple has the sanctum and the mandapa with only the cubicle and the pillars of the central octagon have survived. It stands over an elaborately built plinth but only a few mini-spires are left of the multi-turreted spire or sikhara. The central pillar is left of the large open mandapa. Octagonal beam features a figure of apsara or heavenly maiden.
Dedicated to Lord Shiva the temple of Somesvara is also five-faceted. One can see elegant and varied decorations on the exterior of the mandapa. The scenes of combat and palace life, kaudakapalik rites and scenes from the Ramayana and from everyday life are beautifully crafted on the walls of the temples.
One can also see three smaller Shiva temples which are not architecturally so good but some of the images like Bhishma Pitamah lying on a couch of arrows and scenes from daily life like a group of acrobats are worth watching.
Some of the Major Architecture in Ancient & Medieval Times in India