The Meenakshi Temple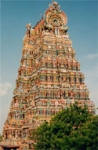 Situated in the city of Madurai, Tamil Nadu nearly 2000 years old Meenakshi temple is a splendid example of Dravidian style of temple architecture. It is dedicated to Shiva and his consort Parvati known here as Sundareswarar and Meenakshi.
Kulasekara Pandya built the original temple but it was splendidly designed in 1560 AD by Vishwanatha Nayak and subsequently built during the reign of Thirumalai Nayak who ruled Madurai from the 16th to the 18th century AD. Meenakshi and Sundareswarar are regarded as the Royal Pandya rulers of Madurai.
Laying within a high-walled enclosure the temple has two sanctums one for Meenakshi and the other for Sundareswarar.It is surrounded by a number of smaller shrines and thousand pillared halls. The temple has 12 impressive gopuras. The granite towers are covered with stucco figures of deities, mythical animals and monsters in vivid colors. These towers are dedicated to Meenakshi.
Through the eastern gateway you can enter the Astha Shakti Mandapam (Hall) built by Thirumalai Nayakar's wives Rudrapathi Ammal and Tholimamai. The Meenakshi Nayak Mandapam is next to this hall. It is a spacious columned hall with a lamp-holder with 1,008 lamps lit on festive occasions. The sculptures depict Lord Shiva's Thiruvilayadals (miracles) and the stories related to Meenakshi's birth and her life as the princess of Madurai.
Golden Lotus Tank is tank where the devotees take bath in the holy water. The area around this tank was the meeting place of the Tamil Sangam. The Oonjal (swing) Mandapam and Killikoontu (parrot cage) Mandapam are on the western side of the tank.
The Kalyana Mandapam is in the south of the Pillared Hall where the marriage of Shiva and Parvati is celebrated every year during the Chitirai Festival in mid- April. The pillars have elaborate sculptures of Shiva, Meenakshi, and scenes from their wedding as well as the figures of ten of the Nayak Kings and their consorts.
Some of the Major Architecture in Ancient & Medieval Times in India