Shore Temple
Located 50 km from the south of Chennai on the shores of Bay of Bengal Mamallapuram was once a port city of the Pallava rulers. The temples and rock cut sculptures show a unique blend of history and natural beauty. It is speculated that this edifice was constructed essentially as a work of art rather than as a place of worship. The Pallavas rulers were great patrons of the arts and had their distinctive style of temple architecture. It is reflected in shore temples as they are an excellent example of Dravidian temple architecture and Pallava art. The monuments of Mamallapuram attract tourists and devotees alike.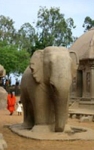 During the reign of Rajasimha in the 7th century AD these Shore temples were built at Mamallapuram. Perched on a rocky outcrop presiding over the shoreline they highlight the zenith of the Pallava art and architecture. Percy Brown has remarked that it served as 'a landmark by day and a beacon by night'. It was designed to catch the first rays of the rising sun and to illuminate the waters after dark. Thus the temple has an unusual layout.
Rajasimha who ascended the throne in AD 674 built the Shore Temple. It was the first Pallava structure to be built of stone rather than being hewn out of stone like the older temples. The greatest improvement in design is in the shikhara or spire, which has altered from the rounded vihara design to a soaring, tiered style. Elements like the vimana or spire, the gopuram or gateway and animal figures that were to become trademark features of Dravidian architecture can all be seen here. And it is largely the use of dressed stone, which gave the architects greater creative freedom.
The two shrines honor Shiva, facing Eastern and Western directions; third shrine that honors Vishnu, as preserver of the Universe is superimposed between these two. The art in the sculpted panels of the temple show robust earthly beauties. The sculptures are breathtakingly real and artistic.
Some of the Major Architecture in Ancient & Medieval Times in India