Kolkata Travel and Tourism
Kolkata is city to visit. To understand and appreciate the fineness of Kolkata and its culture, one needs many trips to the city. And do make sure that you travel the city with a different set of people from different backgrounds to enable you to see new facets of the city every time.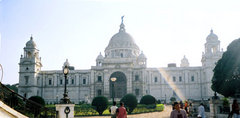 For Book lovers Kolkata city is home to the National Library of India and famous in India for the grand book-fairs it hosts every winter. The oldest museum in Asia, the Indian Museum (established 1814), is also in Kolkata.
For a first time tourist the places to visit in the city are the Victoria Memorial, Calcutta High Court, Bankshall Court, Writer's Building, Jorasanko Thakur Bari, Marble Palace, Dakshineswar Kali Temple, Birla Temple, Rabindra Setu (previously called Howrah Bridge), Vidyasagar Setu (second Hooghly bridge), Nandan - Rabindra Sadan Cultural Complex, Shahid Minar (previously called Ochterlony Monument by the British), Kalighat, Bhoothnath, Science City, St. Thomas, Kolkata, Town Hall, Calcutta, Millennium Park promenade, Eden Gardens (a massive international cricket stadium), Whiteways and Laidlaw Building (currently known as Life Insurance Corporation of India building), Governor's House, Esplanade Mansion, Howrah Station, South Eastern Railway Headquarters, Calcutta Maidan and many more notable places. Well actually, a first time visit may not be enough.
Well while you are jumping around to various tourist places do find time for the bylanes and streets of Kolkata for food, clothes and loads of culture.
Museums in Kolkata
Indian Museum
Town Hall, Kolkata
Marble Palace
Gurusaday Museum, Diamond Harbour Road
Jawahar Shishu Bhawan
Birla Technological and Science Museum
Science City
Telangana History | kerala History | Chhattisgarh History | Gujarat History | Himachal Pradesh History | Jharkhand History | Madhya Pradesh History | Manipur History | Karnataka History | orissa History | Punjab History | Rajasthan History | Sikkim History | Tamil Nadu History | Uttarakhand History | Uttarpradesh History | Tripura History | Meghalaya History | West Bengal History
Hospitals in Kolkata | Information on West Bengal.|Kolkata City|Kolkata Economy|Kolkata Education|Kolkata Free Ads|Kolkata Geography|Kolkata in Sports|Kolkata History|Kolkata News|Kolkata Picture Gallery|Kolkata Real Estate|Kolkata Transport|Kolkata Travel Tourism |Kolkata Trivia|Map of Kolkata|Jobs in Kolkata|For more on Calcutta City.| Restaurants In Kolkata |Government House | Contribution to Independence | City of Palaces