Kolkata History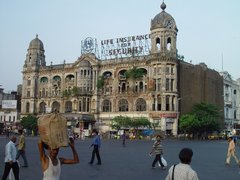 The rent-roll of Akbar, a sixteenth-century Mughal emperor, and the work of a Bengali poet, Bipradaas, of the late fifteenth century, both make mention of the city's early name being Kolikata, from which Kolkata/Calcutta are said to derive.
There is lot of discussion on how the city got its name. There are different views on the issue. The more popular one is that the city got its name from the Hindu goddess Kali.
The city High Court recently gave a ruling that Job Charnock, a Briton earlier believed to be the founder of the city is not the founder of the city and Calcutta has no birthday. According to the Court, the city owes its genesis in the Maurya and Gupta period and it was an established trading post long before the Slave Dynasty of the Delhi Sultanate, the Mughals, the Portuguese, the French or the British established a modern township there.
References to the existence of an ancient riverine port (named Kalikata) exist in the travel journals of Chinese scholars and Persian merchants dating from centuries BCE. The Hindu epic Mahabharata, lists the King of "Vanga", as having fought alongside the Kauravas in the great war.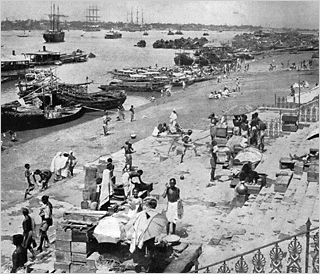 In spite of the High Court ruling, it is a fact that one of the earliest modern settlement in the city took place when in 1690, Job Charnock, an agent of the English East India Company chose the place for a trade settlement. In 1698, the East India Company bought three villages (Sutanuti, Kolikata and Gobindapur) from a local landlord.
The next year, the company began developing the city as a Presidency City.
In 1727, as per the order of King George I, a civil court was setup in the city. The Calcutta municipal corporation (recently renamed as 'Kolkata Municipal Corporation') was formed and the city had its first mayor.
Journey from British rule to independence
The three villages, in particular Kalikata, where Calcutta is located, came into the possession of the British East India Company in 1690 and some scholars like to date its beginnings as a major city from the construction of Fort William by the British in 1698, though this is debated.
From 1858 to 1912, Calcutta was the capital of British India. From 1912 to India's Independence in 1947, it was the capital of all of Bengal. After Independence, Calcutta remained the capital of the Indian state of West Bengal.
Telangana History | kerala History | Chhattisgarh History | Gujarat History | Himachal Pradesh History | Jharkhand History | Madhya Pradesh History | Manipur History | Karnataka History | orissa History | Punjab History | Rajasthan History | Sikkim History | Tamil Nadu History | Uttarakhand History | Uttarpradesh History | Tripura History | Meghalaya History | West Bengal History
Hospitals in Kolkata | Information on West Bengal.|Kolkata City|Kolkata Economy|Kolkata Education|Kolkata Free Ads|Kolkata Geography|Kolkata in Sports|Kolkata History|Kolkata News|Kolkata Picture Gallery|Kolkata Real Estate|Kolkata Transport|Kolkata Travel Tourism |Kolkata Trivia|Map of Kolkata|Jobs in Kolkata|For more on Calcutta City.| Restaurants In Kolkata |Government House | Contribution to Independence | City of Palaces