Primary and Secondary
There are six systems of education ---
The West Bengal governmental system of education, known as West Bengal Council of Higher Secondary Education, Kolkata
private Church-run schools administered by either the CNI or Catholic or other non Christian schools administered privately --- affiliated mostly to the ICSE and ISC examination of the Council for the Indian School Certificate Examinations, Delhi
the central government administered (like the Kendriya Vidyalaya)or privately administered schools affiliated mostly to the Central Board of Secondary Education, Delhi
the London Edexcel / the IGCSE education system,
the Islamic Madrasah system of education and lastly
the open school based education affiliated to the National Institute of Open Schooling (NIOS), Delhi. In addition to that, private candidates can appear for examinations of either the CBSE, West Bengal Board and other state boards which conduct their courses in the city.
University and Professional Education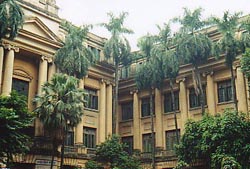 Kolkata has nine public universities and numerous degree colleges. The city has four medical colleges, one dental college, several engineering, technical and management institutes.
The universities or autonomous institutions of national importance located in Kolkata are listed below:
Universities
University of Calcutta,
Jadavpur University,
Rabindra Bharati University,
West Bengal National University of Juridical Sciences,
Netaji Subhas Open University,
Bengal Engineering & Science University (formerly Bengal Engineering College),
West Bengal University of Health Sciences,
West Bengal University of Animal and Fishery Sciences,
West Bengal University of Technology,Click to go University site
and numerous colleges affiliated to some of the above mentioned universities.
Institutions of National Importance
Asiatic Society
Indian Statistical Institute
Indian Institute of Management
Marine Engineering Research Institute
Indian Association for Cultivation of Science
Indian Institute of Chemical Biology
Variable Energy Cyclotron Centre
Saha Institute of Nuclear Physics
Inter University Consortium for Department of Atomic Energy Facilities (IUC-DAEF)
Satyajit Ray Film and Television Institute
Institute of Hotel Management, Catering Technology & Applied Nutrition
Other Autonomous Institutes/Centres of Excellence
The Ramakrishna Mission Institute of Culture
Centre for Studies in Social Sciences, Calcutta
Anthropological Survey of India
Bose Institute
Botanical Survey of India
Central Glass & Ceramic Research Institute
Central Inland Capture Fisheries Research Institute
Central Research Institute for Jute & Allied Fibres
Centre for Studies in Social Sciences
Electronics Research and Development Centre of India
Geological Survey of India
Indian Institute of Information Technology
Mining, Geological and Metallurgical Institute of India
National Institute of Research on Jute & Allied Fibres Technology
National Institute of Homoeopathy
S.N.Bose National Centre for Basic Sciences
Zoological Survey of India
School of Tropical Medicine
Central Forensic Science Laboratory
Serampore College
Presidency College
Scottish Church College
Bethune College
Medical College Calcutta
Indian Institute of Social Welfare and Business Management
Max Mueller Bhavan - Goethe Institut
British Council
United States Educational Foundation in India
National Institute of Fashion Technology.
Other public universities or institutions which operate in Kolkata or conduct courses in affiliated colleges or institutes are IIT Kharagpur, Visva Bharati University, Vidyasagar University, University of Kalyani, Aligarh Muslim University, Himachal Pradesh University, Madurai Kamaraj University, IGNOU and the Indian School of Mines, Dhanbad. Foreign and private universities like the University of London, University of Cambridge (Local Exams Syndicate), Troy State University, Ashington University, TAFE Australia, Birla Institute of Technology, Mesra, XLRI Jamshedpur, International Management Institute (Delhi), Rai University, EIILM University, Sikkim Manipal University and Wigan and Leigh College, UK also operate in Kolkata.
The Geological Survey of India, and the National Council of Science Museums have their headquarters in Calcutta. Financial institutions like ICAI, ICWAI, ICFAI and technological institutions like ICE(I), IE(I), NIIT, APTECH have branch offices in Kolkata.
Telangana History | kerala History | Chhattisgarh History | Gujarat History | Himachal Pradesh History | Jharkhand History | Madhya Pradesh History | Manipur History | Karnataka History | orissa History | Punjab History | Rajasthan History | Sikkim History | Tamil Nadu History | Uttarakhand History | Uttarpradesh History | Tripura History | Meghalaya History | West Bengal History
Hospitals in Kolkata | Information on West Bengal.|Kolkata City|Kolkata Economy|Kolkata Education|Kolkata Free Ads|Kolkata Geography|Kolkata in Sports|Kolkata History|Kolkata News|Kolkata Picture Gallery|Kolkata Real Estate|Kolkata Transport|Kolkata Travel Tourism |Kolkata Trivia|Map of Kolkata|Jobs in Kolkata|For more on Calcutta City.| Restaurants In Kolkata |Government House | Contribution to Independence | City of Palaces