Tips for Choosing Men's Shirts
Shirts are integral part of men's wardrobe therefore they must consider some basic factors such as style, colour, quality fabric and fit stitching while planning to buy shirts.
While deciding to purchase shirt, first thing is to check collar that comes in many varieties; point collar, button down collar and spread collar.
Another thing to consider is cuffs. Button cuffs are made for informal shirts while French cuff and barrel cuff sleeves are designed for official shirts. French cuffs usually need cuff links, a traditional and good-looking stylish accessory for men shirts.
Normally, men wear long sleeve shirts for multiple purposes; therefore the classic button cuff is more appropriate design for shirts. A quality dress shirt cuff should be wrinkle free and have straight top stitching.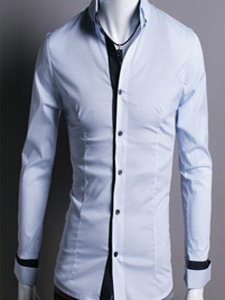 In market, there is huge range of men's shirts from formal to casual. It depends on customer's choice and suitability of the occasion to make purchases of these shirts.
Customer can select shirts according to their choice. In order to do so they may consider few important things like fabric, cut and colour.
Fabrics used in shirts are polyester blends or cottons, dressier silks or linens. High quality fabrics makes person feel soft, flexible and comfortable.
Today, men like to purchase wrinkle resistant and stain resistant fabric shirts as they are easy to maintain.
When men plan to purchase shirts, they must consider pattern of shirts. Normally, there are four types of patterns such as solid colours, stripes, checks and prints. Stripped shirts are more preferred by men because it can be worn for any occasion.
Season and climate play vital role in choosing fabric for shirts. In summer, men prefer light colour, smooth shirting fabrics, while in winter; they like heavy, rich, dense fabric with multifarious patterns.
Finally, while buying a shirt one should look at the stitching of its fabric. They must check some features such as buttons and stitches with a criss-cross pattern for reinforcement. All stitches in the shirts should be straight and parallel to the seam; the collar should be nicely stitched and stiff to maintain the shape.
Hope these guidelines will assist men to get stitched good quality shirts or purchase the best among the readymade shirts.
- Ragini Sinha
Articles
Selection of engagement rings for spouse
[New] |
Tips for Choosing Men´s Shirts
[New] |
Designer Rajasthani costumes for special occasions
|
Good selection of men's luxury watches
|
Useful tips for care of neck
|
Stylish handbags to match with outfits
|
Men's dashing outfits for Party
|
Accessories for your babys first birthday
|
Kids Fashion
|
Student Farewell trendy outfits
|
Unearthing Teens Newest Fashion
|
Breezy look of the year
|
Care for Colored Hair
|
Lakme Fashion Week
|
Teens Indo-western dresses for grand ceremonies