Choosing superior quality leather Jacket
Leather jackets are the choice of people who have trendy living style. These jackets are a jacket-length coat that is generally worn on top of other attire, and made from the tanned hide of various mammals.
The leather material is usually dyed black, or in many shades of brown, but a wide range of colours is available.
Designers make leather jackets for many purposes, and specific styles have been related with the subculture called greasers, motorcyclists, military aviators, police, and music subcultures who have worn the piece of clothing for defensive or stylish reasons and rarely to create a potentially scary look.
They are not the part of wardrobe but significant item to enhance lifestyle because whole piece is stitched in one piece.Therefore when planning to purchase leather jacket, it is advised that customer must spend time to survey market and make best choice.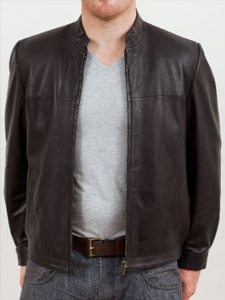 Most stylish leather jackets are manufactured in the countries like Italy, Pakistan, India, Canada, Mexico and the United States, using hides left over from the meat industry.
Fabrics simulating leather such as polyurethane or PVC are used as alternatives to authentic animal hide leather depending on the requirement of the wearer such as those pursuing vegan lifestyles or for financial reasons as synthetic fibers tend to be cheap than authentic leather. Raw material for leather jackets are Antelope, buckskin, lambskin, sheepskin, and cowhide.
The manufacturing process is like this. As soon as the skin is removed from the animal at the meat processing plant, it is refrigerated, salted, or packed in barrels of brine. It is then sent to the tannery where the skins go through a sequence of processes designed to preserve and soften the hides.
Sewing materials such as thread, lining, seam tape, buttons, snaps and zippers are generally bought from outside vendors and stored in the garment factory. The advancement of speedy sewing machinery changed the method traditional sewing factories where one person may have worked on a single garment from start to finish.
Because leather garments are considered luxury items, hand-construction by highly skilled artisans is still sought by many customers. However, the following steps are those used in factory mass production. It was revealed in reports that leather jackets were also usually worn by Russian Bolsheviks and were nearly a uniform for the Commissars during the Russian Civil War, and later for the members of the Cheka.
The peculiar quality of leather jackets is that person look smart and leaves a good impression among group. But selection of good quality, light weight leather jacket is difficult task. Leather companies also focus on designs and styles while preparing jackets which meets the customer's expectation and requirement. Bomber is most recognized style of leather jacket
Another style of leather jacket is Double Rider for motorcyclist. When people are going to purchase these outfits, they must follow creation guidelines. One of the significant features of leather jacket is to check its durability because jackets are not very cheap.
Secondly, buyer must see the cut in jacket and thoroughly check the fitting, designs, zips and other additional accessories used in jacket. Many high quality jackets have comfortable linings and trims that giver extra warmth and strength.
It is necessary to check what type of leather is used in constructing jackets. It can be evaluate that which leather is best but typical leathers have their own durability and other characteristics. For example, Cowhide is frequently used to make leather jacket because it has numerous features that are customer friendly such as it is available in low cost, and it has toughness, durability, and resistance to water and dust.
One of the major qualities of these jackets is that it provides protection when taking a trip on motorcycle. People usually prefer to buy because of its stiffness quality. Numerous examples can be given for iconic leather jackets worn in popular culture, such as the one worn by the T-800 character of The Terminator films and the longer ¾ length trench coat style worn by action heroes such as Steven Seagal, and Keanu Reeves and Laurence Fishburne in The Matrix films, or by Richard Gibson as Herr Otto Flick in the Allo Allo TV Series.
The leather jackets was also worn by Brad Pitt in Fight Club, where the antagonist Tyler Durden continually appears with different variations of his 'red' leather jacket. Other famed leather jacket icons include those worn by members of the Black Panthers in the 1960s and 1970s, the Ramones which made it a trend in the punk subculture, members of heavy metal subcultures.
Other type of Leather used for making jacket is Bison leather which is akin to Cowhide and very durable and stiff. Deer skin jackets are also preferred by youngsters as it is very durable and soft to touch.
Goat skin jackets are elegant as well as light weight. These are the type of leather used in jackets and it depends on person liking to choose best suited jacket for him. The most important thing in purchasing jacket is to know source from where customers are going to purchase. If customer can afford expensive jackets, they have many varieties available in the market.
They can select shiny, retro-feel blazers, or long trenches to feel comfortable. With wise decision and good market survey, people can get suitable leather jackets that are trendy outfits.
There are many purposes for designing leather jackets such some leather jackets made for fashionable purposes and those worn for protection, such as motorcycle personal protective equipment. Leather jackets made for protecting use are safety equipment and are heavier, thicker, and often equipped with armor, thus becoming a practical thing of clothing despite of the imagery invested in them by popular society.
A leather jacket mainly designed for fashion is not used for people who fond of motorcycle ride as it may lead to accident due to their light construction.
Motorcycle jackets often have more large zips, weatherproof pockets and closures, higher collars, and are styled to be longer at the back instead of the front to defend the kidneys of the riders from the cold while they are turned forward over their motorcycle.
These leather jackets are perfect to protect riders against wind, light rain, and autumn.
Articles
Selection of engagement rings for spouse
[New] |
Tips for Choosing Men´s Shirts
[New] |
Designer Rajasthani costumes for special occasions
|
Good selection of men's luxury watches
|
Useful tips for care of neck
|
Stylish handbags to match with outfits
|
Men's dashing outfits for Party
|
Accessories for your babys first birthday
|
Kids Fashion
|
Student Farewell trendy outfits
|
Unearthing Teens Newest Fashion
|
Breezy look of the year
|
Care for Colored Hair
|
Lakme Fashion Week
|
Teens Indo-western dresses for grand ceremonies