Teens Impressive Indo western dresses for grand ceremonies
It is general thought of people that teenage is exciting and that teenagers are fond of experimenting new things in life. However, Teens always search for typical dresses when they plan to go to some family ceremonies or social parties. A good option for teens according to the current fashion trend is indo-western style dresses.
Though there are great varieties available in the market, teens must select outfits as per their physique and skin color. Color choice is very important to look impressive in grand parties. Basically, Indo-Western outfits are designed through the fusion of Western and Asian fashion.
In the period of globalization and increased movement of Indians into western countries, Indo western dresses are the first choice of teens for special parties. Indian designers have smartly developed creative designs of Indian taste into western style, which attract Indian customers.
Though Indian culture and custom has immense value in traditional costumes for attending parties, changing attitude towards dresses, and more attraction to dress up like western people, the younger generation choose this fusion outfit to enjoy the party as well as be the center of attraction in a grand gathering where all types of people are there. In modern times, the youth are accepting western culture to conform to their peer group so that they should be viewed as modern.
Dressing style reflects the overall personality; and Indo western dresses leave a good impression in many parties. Indo western dresses for parties are selected because it combines both traditional and western culture that creates some kind of enchantment in the wearer's fashion statement. It has emerged as a novel fashion style for teens and is adopted by customers on a large scale.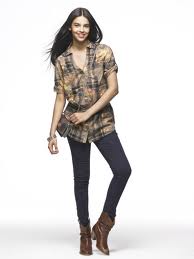 It is mainly a combination of properly fitted clothes with not so fitted clothes. Among the varieties of Indo western dresses, the most liked outfit for girls is the trouser suit, which is a short kurta with straight pants and a dupatta. It comes in wide varieties in garment showrooms. Another new design includes sleeveless tops, short dupattas, and pants with slits. New fusion fashions are coming quickly in the market because designers instantly create some unique style to compete with current trends.
Other outfits of Indo western clothing are jeans with a choli, salwar or kurta, adding a dupatta to a Western-style outfit, and a lehnga with a tank shape top. Indo-western dresses are designed with the combination of exciting embroideries of Kelash and Sindh. It depends on customer's choice and budget for purchasing Indo western dresses. Normally, these dresses are quite costly but there is tough competition in the market so customer can make good bargain while purchasing these fashionable outfits.
As for the men and boys pairing your comfortable jeans with kurta is chick. Infact some filmstars have also been seen wearing a suit top with a dhoti. Maybe a printed pattern lungi with a waist coat can do wonders for you with Lungi being the current rage. Carrying off any dress with confidence is the key.
Articles
Selection of engagement rings for spouse
[New] |
Tips for Choosing Men´s Shirts
[New] |
Designer Rajasthani costumes for special occasions
|
Good selection of men's luxury watches
|
Useful tips for care of neck
|
Stylish handbags to match with outfits
|
Men's dashing outfits for Party
|
Accessories for your babys first birthday
|
Kids Fashion
|
Student Farewell trendy outfits
|
Unearthing Teens Newest Fashion
|
Breezy look of the year
|
Care for Colored Hair
|
Lakme Fashion Week
|
Teens Indo-western dresses for grand ceremonies