Buying guidelines for Fashionable Ladies night gowns
Nighty or night dresses are the loose outfits used by women to wear at night. Most commonly used fabrics in nighties are silk, cotton and satin because they are more relaxing and ideal dresses for night.
In current fashion trends, females are fond of wearing stylish and designer nighties that are comfortable as well as attractive. Comfortable and fashionable nighties are first choice of ladies.
Night dresses are stitched in loose fitting to get good sleep so it is important to select suitable cloth and the pattern should be simple. If customer wants to purchase nighties for home then the fabric should be thick such as cotton, silk or satin.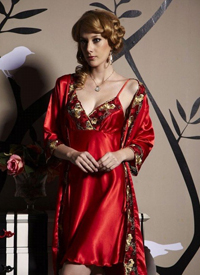 Nighties are available in market in array of stylish designs, sizes, colours, shapes and different types of fabrics. The main materials used to make nighties are silk, lace, ribbon, satin, chiffon, net, nylon and cotton.
Stitch makers prepare attractive designs, used stylish accessories like buttons, belts, laces, frills, ribbons, patches and net yoke to give attractive look. They also make various necklines and trendy sleeves or without sleeves to attract customers.
Nighties are made with strap less or with strap.It depends on customer preference and requirement. Design makers offer different length of nighties. Suiting the choice of the customers, some nighties are short in length, others are long. The most common nighties lengths are, floor length, knee length and hip length. The teens prefer to wear short or mini nighty, whereas adult choose long night dresses.
If you are planning to buy nighties, consider the right shape, size and style so that it should be comfortable to wear and look attractive as well. Night dress should be best fitted and breathable during sleep.
Presently, there are many varieties of hosiery fabrics used in nighties to make it comfortable and eye-catching night dresses. Trendy night dresses are usually made up of beautiful fabrics like satin and silk. Manufacturers design fashionable nighties. They offer various variety like; embroidered nighties, printed nighties, bridal nighties etc. Designer nightwear comes in various colours, designs, sizes and textures.
Manufacturer or stitch makers use soft and shrinkage proof cloth that are durable as well fashionable to make nighties. The decoration done in the printed patterns make night dresses really good-looking. It is necessary to select soft fabric while purchasing nighties because nighties are important part of female wardrobe.
- Ragini Sinha
Articles
Selection of engagement rings for spouse
[New] |
Tips for Choosing Men´s Shirts
[New] |
Designer Rajasthani costumes for special occasions
|
Good selection of men's luxury watches
|
Useful tips for care of neck
|
Stylish handbags to match with outfits
|
Men's dashing outfits for Party
|
Accessories for your babys first birthday
|
Kids Fashion
|
Student Farewell trendy outfits
|
Unearthing Teens Newest Fashion
|
Breezy look of the year
|
Care for Colored Hair
|
Lakme Fashion Week
|
Teens Indo-western dresses for grand ceremonies