Fashionable baby frock for different seasons
Frock is the major item of baby girl's wardrobe and it is used by them around the globe. Frock is loose garment and it is the comfortable dress for the girls. Indian girls wear frock in their childhood and it is a significant part of their dressing during their childhood.
MIndian parents prefer colourful and smart dresses for their girls' to make them look good and create impression on their neighbours, friends and relatives. As a result frocks for girls have become a popular dressing style in India and customers always search for new style and varieties.
So, manufacturers focus more on the quality of fabric and comforts, while designing fashionable frocks. They survey the customers taste and design frocks to cater to their demand.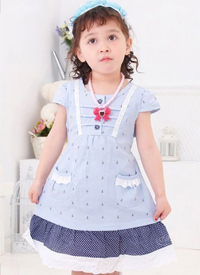 While designing baby frock, factors like; ease, comfort and attractive looks are the major focus of the designers. To attract kids, fancy baby frocks are designed with precision, smoothness, finish and texture.
Designers focus on blending of conventional and modern-day design. Some designs prefer yoke frock and frills in sleeves and lower portion that remains always in circulation. These are produced with qualitative fabrics that improve the attractiveness of the dress and made available in various designs and colours.
Design developers create wide collection of finely made frocks. These are available in different sizes. The range of frocks can fit in for any age group from 1-12 years. Numerous varieties like strapped as well as designer are available in various sizes. They are stitched nicely with softest fabric to guarantee comfort and attractive looks.
Numerous varieties of fashionable frocks include A-line frock designs, cute multi layered frock, frilled frocks, stripped frock with embroidery. However, their preference depends on the customer's choice and budget.
Designers focus on luxurious piece of clothing for party wear. They come in various styles and some are prepared by luxurious silk in stylish colour palettes.
Velvet, denim; satin types of fabrics are used in different styles to give the dresses elegant look. The multicolour designer frocks can make baby look beautiful and cute. These good-looking frocks are party wear and ideal for marriage and formal events.
Baby frocks are designed by different kind of embroidery and stone work. The best quality fabrics with hallmark products increase its durability. There are many manufacturers who produce wide variety of frocks out of latest machines, and are precisely woven, easy to wear and do not shrink in wash.
As girls grow up fast, manufacturers also take care of the cost, because Indian customers usually do not like to spend more on buying baby frock.
So while purchasing frocks during the festive seasons, care must be taken it's finely stitched with durable material and do not fade while washing. Since baby girls wear frock whole day, it may not only look good but also comes for a reasonable cost.
- Ragini Sinha
Articles
Selection of engagement rings for spouse
[New] |
Tips for Choosing Men´s Shirts
[New] |
Designer Rajasthani costumes for special occasions
|
Good selection of men's luxury watches
|
Useful tips for care of neck
|
Stylish handbags to match with outfits
|
Men's dashing outfits for Party
|
Accessories for your babys first birthday
|
Kids Fashion
|
Student Farewell trendy outfits
|
Unearthing Teens Newest Fashion
|
Breezy look of the year
|
Care for Colored Hair
|
Lakme Fashion Week
|
Teens Indo-western dresses for grand ceremonies