Samak Kabab Recipe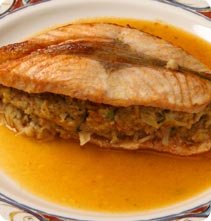 Kababs made out of fish is infrequent generally and when most people think of Kababs, the image of lamb, Samak and vegetables on a skewer come to mind. Fish, conversely, makes an excellent addition to any skewer. This Samak Or Fish Kabab Recipe features an excellent fish marinade that really brings out the flavor of the fish, while still maintaing the "grilled" flavor. Samak or Fish Kabab is served with Rice.

Samak Kabab Ingredients
2 lbs. fish (swordfish, halibut, or salmon)
1/3 cup olive oil
3/4 cup lemon juice
1 teaspoon dill
1 tablespoon white vinegar
1 cucumber
1 medium onion
2 red peppers
1 pint cherry tomatoes
Samak Kabab Method
2 hours prior to grilling, prepare fish by rinsing with cold water. Pat dry with paper towel. Cut into 1 inch cubes. Set aside.
Mix olive oil, lemon juice, dill, and vinegar to make marinade.
Pour marinade into large freezer bag and add fish.
Make sure fish is well covered by marinade.
Place freezer bag in the refrigerator for two hours.
While fish is marinating, chop vegetables. Half the cucumber lengthwise and slice into 1/2 inch pieces. Cut the onions into eights. Cut red pepper into 1/3 chunks. Set aside.
Take away fish from marinade. Discard marinade. Assemble kebabs according to taste. Many people like to do a vegetable them meat combination. This is entirely a matter of personal choice. It really does not affect the cooking. If you are using steel skewers, be sure to put a light coat of oil before adding the fish and vegetables. They will slide off much easier.
Spray the grill lightly with cooking oil and place the fish kebabs on the grill. Cook for about 4-6 minutes each side or until the fish flakes easily with a fork.
| Seekh Kabab Recipe | Shami Kabab Recipe | Chicken Kabab Recipe | Egg Kabab Recipe | Hara Bhara Kabab Recipe |
| Beef Kabab Recipe | Samak Or Fish Kabab Recipe |