Beef Kabab
Beef Kabab is widely prepared and had by almost all the regions of Asia, and here is a easy-to-make Indian Beef Kabab Recipe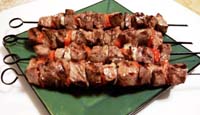 Beef Kabab Ingredients
Minced Beef (Keema) - 1 kg
5 Spring Onions
4 Green Chillies (Hari Mirch) (or to taste)
3 tbsp. Fresh Coriander Leaves (Hara Dhania) (chopped)
2 tsp. Dry Pomegranate Seeds (Anardaana) (crushed)
2 tbsp. Coriander Seeds (Saabut Dhania) (crushed)
2 tsp. Chaat Masala
2 tsp. Garam Masala Powder
1 tsp. Red Chilli Powder (Pisi Lal Mirch) (or to taste)
Salt (to taste)
Beef Kabab Method
Finely chop the spring onions and green chillies.
Put minced meat in a bowl, combine all ingredients and mix well.
Make sure all ingredients are well blended with the meat.
Refrigerate for minimum an hour.
Light charcoal and wait for it to get a layer of ash on top. (This will reduce the temperature of the fire.)
Make large balls out of the mixture and mold them on to kabab skewers.
Put skewers on fire.
Grill until it is brown on all sides and well cooked.
| Seekh Kabab Recipe | Shami Kabab Recipe | Chicken Kabab Recipe | Egg Kabab Recipe | Hara Bhara Kabab Recipe |
| Beef Kabab Recipe | Samak Or Fish Kabab Recipe |