Hara Bhara Kabab Recipe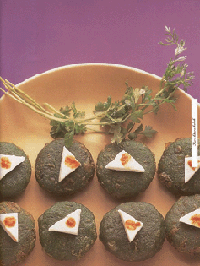 Do you think Kababs is a cuisine for Non-Vegtarians only? Not exactly..here is a Kabab recipe for our Vegetarian friends, Hara Bhara Kabab, a Kabab made out of Green Vegetables exclusively!
Hara Bhara Kabab Ingredients
3 or 4 medium sized boiled potatoes
Three fourth of cup of boiled green peas
100 gms of spinach
2 tb sp of chopped green coriander
1 tb sp of chopped green chillies
1 tb sp of chopped ginger
1 tb sp of chaat-masala
Required amount of salt to taste
2 tb sp corn flour (cornstarch)
Oil for deep-frying - 1 small cup
Hara Bhara Kabab Method
Peel and grate boiled potatoes.
Mash the boiled green peas.
Blanch spinach leaves in plenty of salted boiling water, refresh in cold water and squeeze out excess water and finely chop.
Mix grated potatoes, peas and spinach. Add chopped green chillies, chopped green coriander, chopped ginger, chaat-masala and salt.
Add corn flour for binding.
Divide the mixture into twenty five equal portions. Shape each portion into a ball and then press it in between your palms to give it a flat tikki shape.
Heat oil in a frying pan Deep-fry the tikkis in hot oil for three to four minutes.
Hara Bhara Kabab can be made on a tawa too. It is recommended that you do not use colour in this recipe. If you feel you may increase the quantity of spinach leaves to give a dark green colour. In that case add a little more corn flour/cornstarch for binding.
Seekh Kabab Recipe | Shami Kabab Recipe | Chicken Kabab Recipe | Egg Kabab Recipe | Hara Bhara Kabab Recipe | Beef Kabab Recipe | Samak Or Fish Kabab Recipe