Coffee Shops in Delhi
Coffee shops are the new meeting point for the happy go lucky crowds of Delhi. These Coffee Shops are open 24 hours and always throbbing with life. Here are some of the must visit coffee shops.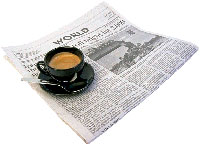 Pavilion, ITC Maurya Sheraton:
Proudly called the heart of the hotel, the coffee shop boasts of 500 diners and on an average 300 residents per day.
Mist, The Park:
Try Italian, Mediterranean and Asian recipes in a relaxing ambience created by low seating leather couches and low tables. You can find cheerful waiters sporting Rohit Bal designed blue shirts and pants. A variety of sweet delicacies are on offer for your sweet tooth.
New Town Cafe, Park Plaza:
You are sure to find people sipping coffee even in the late hours at this Gurgaon based café. Feng Shui bamboo in huge jars add to the ambience. One can enjoy a Sunday Buffet at Rs.299 per head. The café organizes food festivals at regular intervals to offer some thing new all the time. Try chef's chilled malted coffee.
Grand Cafe, The Grand:
The regular food festivals keep this café in the limelight. The menu changes every month with the signature dish of Caesar salad with chicken. Breakfast would cost you Rs.550 plus taxes, while lunch and dinner cost about Rs.750-850.
Cafe 24, City Park, Pitampura:
The only 24-hour coffee-shop, dishes out multi-cuisine menus ranging from pizza to rogan josh for food lovers. The buffet is affordable at Rs 175 plus taxes per head.
Telangana History | kerala History | Chhattisgarh History | Gujarat History | Himachal Pradesh History | Jharkhand History | Madhya Pradesh History | Manipur History | Karnataka History | orissa History | Punjab History | Rajasthan History | Sikkim History | Tamil Nadu History | Uttarakhand History | Uttarpradesh History | Tripura History | Meghalaya History | West Bengal History
Hospitals in Delhi | Coffee in Delhi | Map Of Delhi. | Delhi Climate | Delhi Economy | Delhi Classifieds | Delhi Guide | Delhi History | Delhi Home Delivery | Delhi News | Famous Personalities in Delhi | Delhi Photos | Delhi Property | Delhi Transportation | Delhi Tourism and Travels | Travel to Delhi | Delhi Jobs | Restaurants In Delhi Archealogical Monuments | Markets in Delhi | Delhi Newspapers | Lakme Fashion Week | Places of Worship |