Delhi Climate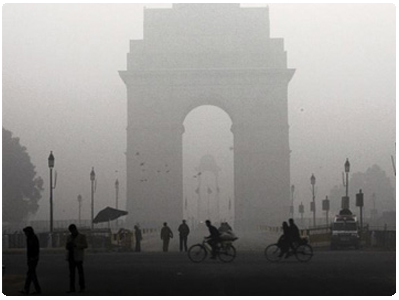 Delhi has a semi-arid climate with high variation between summer and winter temperatures. The summers are long starting in early April and lasting till October with the rainy season in between. Extreme temperatures have ranged from a minimum of -2 to a maximum of 47 C. These are historical records and typically winter nights almost never go below +2C or summer afternoons above 45C.
The average annual rainfall is approximately 67cm or 27 inches, most of which falls in the months of July and August during the Monsoon. Traditionally, the Monsoon is supposed to touch Delhi on June 29th every year.
When To Go
Summer in Delhi is no joke - from April the temperature climbs relentlessly to more than 45°C (113°F) in May and June and the heat doesn't really abate until October. Dust storms called loo sweep in from Rajasthan with considerable fury.
The arrival of the monsoon, at the end of June, brings intense humidity - the murder rate usually peaks in this month.
From November to March is the best time to visit, with cool but sunny weather. Plus Holi, one of the most exuberant Hindu festivals, takes place around this time. October sees the end of the monsoon, but is reasonably pleasant. Nights can be quite chilly in December and January.
ANNUAL TEMPERATURE & RAINFALL CHART

MONTHS
MAX
MIN
RAINFALL
JANUARY
21
07
25
FEBRUARY
24
10
22
MARCH
30
15
17
APRIL
36
21
07
MAY
41
27
08
JUNE
40
29
65
JULY
35
27
211
AUGUST
34
26
173
SEPTEMBER
34
25
150
OCTOBER
35
19
31
NOVEMBER
29
12
01
DECEMBER
23
08
05
Telangana History | kerala History | Chhattisgarh History | Gujarat History | Himachal Pradesh History | Jharkhand History | Madhya Pradesh History | Manipur History | Karnataka History | orissa History | Punjab History | Rajasthan History | Sikkim History | Tamil Nadu History | Uttarakhand History | Uttarpradesh History | Tripura History | Meghalaya History | West Bengal History
Hospitals in Delhi | Coffee in Delhi | Map Of Delhi. | Delhi Climate | Delhi Economy | Delhi Classifieds | Delhi Guide | Delhi History | Delhi Home Delivery | Delhi News | Famous Personalities in Delhi | Delhi Photos | Delhi Property | Delhi Transportation | Delhi Tourism and Travels | Travel to Delhi | Delhi Jobs | Restaurants In Delhi Archealogical Monuments | Markets in Delhi | Delhi Newspapers | Lakme Fashion Week | Places of Worship |