Malayali baby names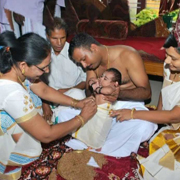 As Keralities like to call their state as God's own country, one can easily distinguish a Malayalee name from the rest. Malayalees fix an auspicious date for the naming ceremony which is usually attended by relatives and neighbours and consult the astrologer before giving the right name to the newborn.
Like in other cultures, elders are consulted before taking a decision and the parents make the occasion a grand fare so that it could be recalled with nostalgia in future.
Very similar to Bengali families, the Malayalees have surnames and caste affiliates that either precede or come after the name given by their parents. Also the place of birth is sometimes attached as suffix to their names which is quite unique to Kerala.
Malayali Naming convention
The arrival of a child in a Malayalee family Kerala is an occasion for joy and celebration. About 28 days after the birth of a Hindu child the "namakaranam" or naming ceremony is celebrated where child is positioned on the father's lap. He whispers the child's name into the right ear.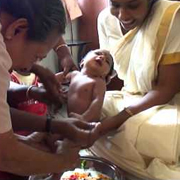 At six months the child is taken to the temple for the chorunu ceremony. Before a statue of Ganesh, the child receives solid food for the first time. Each family member takes turn in feeding rice and curry to the child. Usually the parents visit the Sri Krishna temple in Guruvayur for this ceremony, since the Lord Krishna here is in the form of a small child enjoying the delights of in candy, especially sweet foods.
Traditionally, the new mother gets nearly three months of rest after giving birth during which she receives wholesome support from her parents and relatives with herbal baths and massage.
Being a multi-cultural society, Kerala has sizeable population of Muslims and Christians who follow their own religious practices in naming their newborn by consulting the elders in line with the religious edicts.