Hyderabad Transport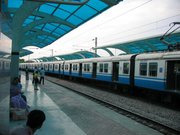 The Hyderabad Airport at Begumpet is well linked to other cities in India and to international destinations including the Middle East,Southeast Asia,especially Singapore and Malaysia,and most recently to Newark,New Jersey and Chicago,Illinois,United States.
A new International Airport is being constructed at Shamshabad in the outskirts of the city,and once complete,it will take over from the existing airport.
Hyderabad has a transportation system known as the Multi Mode Transport System (MMTS),which incorporates light rail. The MMTS connects various parts of the city.
Hyderabad is also currently scheduled to get a Monorail system to help ease urban congestion.
Telangana History | kerala History | Chhattisgarh History | Gujarat History | Himachal Pradesh History | Jharkhand History | Madhya Pradesh History | Manipur History | Karnataka History | orissa History | Punjab History | Rajasthan History | Sikkim History | Tamil Nadu History | Uttarakhand History | Uttarpradesh History | Tripura History | Meghalaya History | West Bengal History
Hospitals in Hyderabad | Hyderabad City Map. | Hyderabad Culture | Hyderabad Economy | Hyderabad Education | Hyderabad Free Ads | Hyderabad Geography | Hyderabad History | Hyderabad News | Hyderabad Pictures Gallery | Hyderabad Real Estate | Hyderabad Transportation Facilities | Hyderabad Travel and Tourism | Jobs in Hyderabad | Restaurants In HyderabadMore About Hyderabad