Hyderabad Economy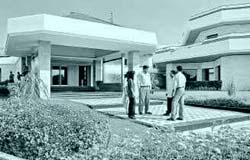 In the late 1990s and the early years of the 21st century, the increasing numbers of IT and ITES companies located here - both home-grown ones as well as offshoots of American companies - have led civic boosters to call their city "Cyberabad".
Hyderabad has made heavy investments in digital infrastructure, and is well known throughout India for its technology sector. An emphasis on education, including female education, is causing productivity and business to thrive, challenging the traditional caste system.
India's fourth largest software company Satyam is headquartered here. Infosys, Microsoft, Oracle, Wipro, Kanbay, GE, ADP, Dell, Deloitte, HSBC, Juno, Intergraph, Keane, Baan Tata Consultancy Services and Google are some of the prominent companies that have established centers in the city.
Dr. Reddy's Laboratories, an emerging global pharmaceutical company listed on the NYSE, is headquartered here. Ramoji film city, Asia's largest film production center - India's own 'Universal Studios' - is also located here.
Hyderabad is also the city of pearls and pearl ornaments, silverware, saris; 'Nirmal' and 'Kalamkari' paintings and artefacts; unique 'Bidri' handicraft items; lacquer bangles studded with stones; and silk and cotton, handloom clothing materials.
Telangana History | kerala History | Chhattisgarh History | Gujarat History | Himachal Pradesh History | Jharkhand History | Madhya Pradesh History | Manipur History | Karnataka History | orissa History | Punjab History | Rajasthan History | Sikkim History | Tamil Nadu History | Uttarakhand History | Uttarpradesh History | Tripura History | Meghalaya History | West Bengal History
Hospitals in Hyderabad | Hyderabad City Map. | Hyderabad Culture | Hyderabad Economy | Hyderabad Education | Hyderabad Free Ads | Hyderabad Geography | Hyderabad History | Hyderabad News | Hyderabad Pictures Gallery | Hyderabad Real Estate | Hyderabad Transportation Facilities | Hyderabad Travel and Tourism | Jobs in Hyderabad | Restaurants In HyderabadMore About Hyderabad