Chennai History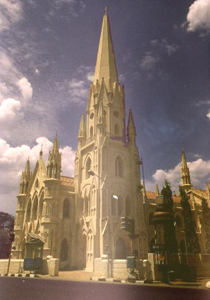 The region currently around Chennai has served as an important administrative, military, and economic centre from dating back to the 1st century when it was ruled by several South Indian kingdoms, notably the Pallava, the Chola, the Pandya and Vijaynagar empires. The town of Mylapore, now part of the metropolis was once a major port of the Pallava kingdom.
The apostle St. Thomas is believed to have preached here between the years 52 and 70 AD. With the arrival of the Portuguese in the 16th century, they built a port known as San Thome or Sao Thome in 1522. The region then passed under the hands of the Dutch, who established themselves near Pulicat just north of the city in 1612.
In 1639, the British East India Company was granted land by the Nayak of Vandavasi as a base for a permanent settlement, believed to be called Madraspatnam. A year later, Fort St George was built which subsequently became the nucleus around which the colonial city grew.
In 1746, Fort St George and Madras were captured by the French under General La Bourdonnais, the Governor of Mauritius who plundered the town and its outlying villages.
The British regained control of the town in 1749 through the Treaty of Aix-la-Chapelle and subsequently fortified the base to withstand further attacks from the French and Hyder Ali, the Sultan of Mysore. By the late 18th century the British had conquered most of the region around Tamil Nadu and the northern modern-day states of Andhra Pradesh and Karnataka to establish the Madras Presidency whose capital was Madras.
The city grew into a major urban dwelling and naval base under British rule. With the advent of railways in India in the late 18th century, it was connected to the other towns such as Bombay and Calcutta facilitating communications and trade with the hinterland. It was the only Indian city to be attacked by the Axis during World War II by the German battleship Emden.
After independence in 1947, the city became the capital of Madras State, which was renamed as Tamil Nadu in 1968. In 2004, the city bore the full brunt of the 2004 tsunami killing many.