Chennai Demographics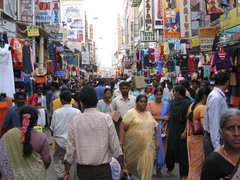 Residents of Chennai are called Chennaiites or Madrasis; the latter is often used to refer to South Indians in general. As of 2000, Chennai city had a population of 4.2 million, while the total metropolitan population was 6.7 million. The estimated metropolitan population in 2005 is 7.45 million.
The population density in the city is 24,418 per while the overall population density is 6,351 per km². The sex ratio is 948 females for every 1200 males, slightly higher than the national average of 934. The average literacy rate is 80.14% much higher than the national average of 59.5%. 25% of the city's population is classified as living in slum conditions.
The majority of residents in Chennai are native Tamilians and speak Tamil. English is widely spoken, and is used almost exclusively in business, education and other white collar professions. Tamil spoken in Chennai uses English words liberally, so much so that it is often called Madras bashai (or "Madras language"). Other languages spoken include Telugu, Malayalam and Kannada.
A regional hub since British times, Chennai has a large number of Marwari traders. Other communities are the Anglo Indian, Bengalis, Punjabi and from Uttar Pradesh and Bihar. Chennai also has a small expatriate population who work in the industries and IT centres.