About Gujarat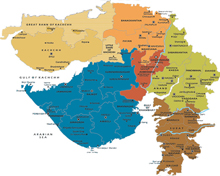 Gujarat is one of the developed states of India. Gujarat is surrounded with the states of Rajasthan to the north-east, Madhya Pradesh to the east, Maharashtra and the Union territories of Diu, Daman, Dadra and Nagar Haveli to the south. The capital of Gujarat is Gandhinagar.
The other major cities in Gujarat are Vadodara (Baroda), Surat, Rajkot, Bhavnagar Jamnagar and Junagadh. Ahmedabad, the commercial capital of the state, is the sixth largest city of India. Other important cities include Nadiad, Anand and Ankleshwar in central Gujarat, Bharuch, Navsari, Vapi, and Valsad in the south; and Bhuj, and Surendranagar, Morbi, Dwarka in Saurashtra in the west.
Climatic conditions are diverse in the state. Though mostly dry, it is desertic in the north-west, and wet in the southern districts due to heavy monsoon season. Sardar Sarovar on Narmada River, a largest dam in India is constructed in the state which improves the irrigation facilities greatly.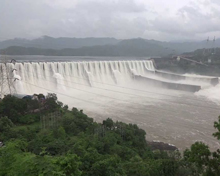 The major rivers flowing through the state include the Narmada, Sabarmati, and Mahi in central and northern Gujarat; Mithi, Khari, Bhadar, Shetrunji and Bhogavo in Saurashtra; Tapi, Purna, Ambika, Auranga and Damanganga in the south.
Gujarat has four National Parks which include Gir Forest National Park, near Junagadh, Blackbuck National Park in Bhavnagar District, Vansda National Park in Navsari District, and Marine National Park on the Gulf of Kutch in Jamnagar District. There are twenty one Wildlife sanctuaries.
Gir Forest is the only home of Asiatic Lions and the only natural home of lions outside Africa.