Transportation in Tripura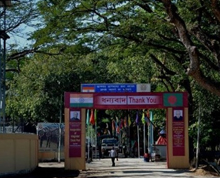 For transportation, Tripura is connected with other parts of the country through Assam by meter gauge railway line extending to Lumding and Silchar. The main railways stations are in the northern towns of Dharmanagar and Kumarghat.
National Highway 44 connects it to Assam and the rest of India. From Agartala Airport, there are flights to Kolkata, Guwahati, Bangalore , Chennai , Delhi and Silchar. These are the main airport of the state. Major Telecommunication companies of India are in the state are Airtel, Aircel, Reliance and BSNL landline, mobile and broadband networks.
Tripura is beautiful place to attract tourists. Main places of interests are Agartala , Ujjayanta Palace, Unakoti, Pilak, Udaipur, Tripurasundari Temple, Neermahal , Jampui Hill, Bhavaneswari Temple, Sepahijala, Kamalasagar, Deotamura, Dumboor Lake, Tripura Govt. Museum. In Tripura, football and cricket are the most popular sports. The state capital Agartala has its own club football championships every year where many local clubs compete in a league and knockout format.
Tripura participates as an Eastern state team in the Ranji Trophy, the Indian domestic Cricket competition. The state also is a regular participant of the Indian National Games and the North Eastern Games. Tripura Society and Culture symbolizes a good combination of traditional and modern aspects. The society of Tripura primarily includes a number of tribal groups. Manipuri and Bengali communities are the other societal groups that live in Tripura since long time. There are numerous marriage customs and property birthright system that exhibit the innate traits of the culture of Tripura.