Sameera Reddy Biography
Sameera Reddy is a successful heroine in Indian film Industry. She has acted in several films made in Hindi, Tamil, Telugu, Bengali, and Malayalam.
Sameera was born on December 14, 1978 in the Telugu Reddy family.
She is daughter of Chintapalli and Nakshatra Reddy. Her father is in transport business while her mother is a housewife. Sameera has two sisters, Meghna and Sushma.
Her ancestors hail from Rajamundry in Andhra Pradesh.
Sameera attended Bombay Scottish School, Mahim, Mumbai and completed her graduation from Sydenham College. Sameera Reddy came to limelight with the music video, "Aur Aahista" of Pankaj Udhas, the Ghazal singer.
More On Bollywood
Bollywood Upcoming Movies
Bollywood Stars Biography
Bollywood Stars Latest Event Gallery
Bollywood Top 10 Songs
The song of the album was praised by the audience and Sameera gained popularity. After that she entered into films in 2002 and her first Hindi film was 'Maine Dil Thujko Diya.'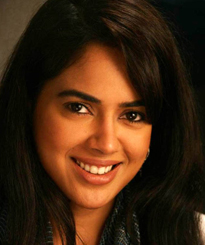 Sameera went on to do several south Indian films and went on to become a very successful star in South India. She acted in Vaaranam Aayiram directed by Gautham Menon which was a super hit movie.
Her other successful film include; Jai Chiranjeeva (2005), Narasimhudu (2005), Ashok (2006), Surya s/o Krishnan (2008), Soolam (2011) and Erra Gulabilu (2011). She gave excellent performance in Tamil action film, Vettai that was a blockbuster in 2012.
Sameera also worked on international projects 'Migration' and 'The Voyeurs' that was showcased at the Toronto Film Festival in 2007. Sameera Reddy is the first Indian film star to have video game in her name.
This mobile video game, 'Sameera the Street Fighter', is downloaded by millions of admirers' world over. Sameera in her initial years was considered a tom boy but she changed her looks to act in films.
She trained herself in Indian classical dancing. Some of her upcoming films in Hindi are Bemisaal and Yeh Hausla.
Sameera Reddy Latest News