Namitha Biography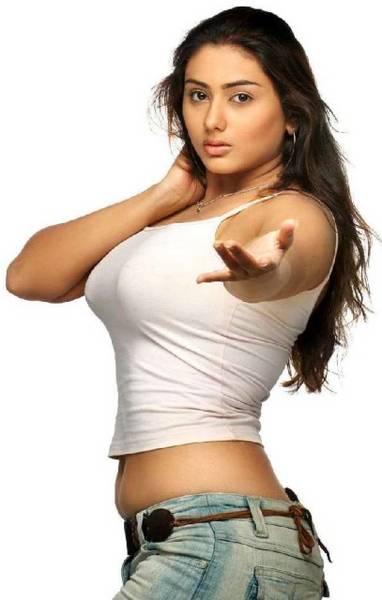 Name: Namitha Mukesh Vankawala
Date of Birth: January 27 1978
Birth Place: Gujarat
Education: B.A. English Literature
Languages known: Hindi, Tamil and Gujarat
Debut Film : Sontham(Telugu)

Namitha, as an actress has shown her talent in Telugu, Tamil, Kannada and Malayalam regional movies. She has a huge fans following in South India.
It is estimated she receives over 6 crore hits as viewers search her on the internet. Namitha, was born on 10 May 1981 in Punjabi Kapoor family in Surat. Her father, a businessman, and mother a housewife.
More On Bollywood
Bollywood Upcoming Movies
Bollywood Stars Biography
Bollywood Stars Latest Event Gallery
Bollywood Top 10 Songs
She was brought up in Bombay. She completed her graduation in English Literature and was a swimming trainer to young children.
Namitha was crowned Miss Surat in 1998 and participated in 2001 Miss India pageant. She started her career with modelling and was seen in numerous TV ads such as Himani cream, Arun Ice Cream, Manikchand Gutka, and Nyle herbal shampoo.
She entered into cinema through Telugu film Sontham directed by SreenuVitla. She acted in the first of two Telugu movies as Bhairavi.
She acted in the Tamil film Aai and gained huge popularity in 'Engal Anna' opposite Vijayakanth.
She got fame after her dance number 'ArjunaArjuna' and became popular as an item girl in regional films. She often appears in Tamil magazine's cover page.
Namitha has played glamorous role in Malayalam films directed by Siddiqui. She made her first appearance in Bollywood in 2006.
Namitha loves to read comic books and novels by Sidney Sheldon. Her hobbies include dancing, watching movies, swimming and playing badminton. She is also involved in charity work for HIV affected kids. She also sponsors public toilet projects for females.
Namitha is well trained in Karate. She feels that girls should be trained in martial arts to protect themselves from any dangerous situation.
Namitha Latest News