Meera Jasmine Biography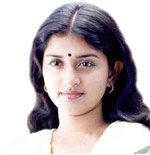 Meera Jasmine is a heroine who holds distinct position in South India cinema. She is famous for her beautiful smile and well endowed personality. Her glamorous persona attracts thousands of viewers in South India.
Meera Jasmine was born on February 15, 1984 at Thiruvalla in Kerala to Joseph Philip and Aleyamma. She did her basic education in Thiruvalla and Changancherry from where she took BSc degree.
Her acting career started with film Soothradharan, directed by Lohitadas but this film did not do well. Even then she got numerous offers from Malayalam and Tamil film producers.
More On Mollywood
Mollywood Upcoming Movies
Mollywood Stars Biography
Stars Latest Event Gallery
Her Tamil film "Run" rocked at box office and was huge commercial success in 2002. Meera got a chance to work with renowned Tamil film director Mani Ratnam and Stanley in films like 'Aaitha Ezhuthu' and 'Mercury Pookkal.'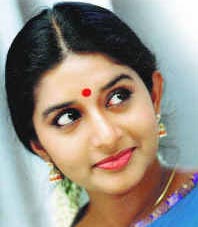 She continually got success in films like; Bal, Puthiya Geethai, Anjaneya and Joot. She gave good performance in Malayalam movies such as Gramaphone, Kasthoorimaan, Swapnakoodu, Chakram, Perumazhakkalam and Achuvinte Amma.
Meera Jasmine's popular film Kasthoorimaan was made both in Malayalam and Tamil. She also acted in Kannada film Maurya. Her Telugu films are Ammayi Bagundi, Gudumba Shankar and Bhadra.
Meera Jasmine won numerous national awards for her brilliant performance in movies that were commercially and critically successful. She won Dinakaran Award and Filmfare Award for Best New Actress in 2002.
She grabbed National Award for Best Actress in 2003 for her film Padam Onnu Oru Vilapam. The film also won her Kerala State Award for Best Actress and Filmfare Award for Best Actress in 2003.
She won Kerala State Award in 2003 for the movie Kasthuriman. She was awarded the Lux-Asianet Film Award for two consecutive years in 2003 and 2004 for her films Perumazhakkalam and Achuvinte Amma.
Meera courted controversy when she visited the Raja Rajeshwara temple at Taliparamba in Kerala. This temple restricts entry of non-Hindu devotees. She had to pay Rs. 10,000 fine for purification rituals.
Meera Jasmine Latest News