John abraham Biography
John Abraham has very enticing personality and is admired by many fans especially the females. He is certainly the hottest star in the Indian film industry.
He took entry in the Indian entertainment industry as a handsome model and has come a long way to make a unique reputation for himself in the Bollywood.
John is often termed as pin-up boy and was selected as the 'Sexiest actor of Bollywood. He is considered a youth idol and girls are allured to him.
John belongs to Mumbai and was born on 17th December 1972. His father is a Christian architect from Alwaye, Kerala, and his mother, Phiroza Irani, a Parsi from Mumbai. His Parsi name was Farhan, but his father changed it to 'John'. He has a younger brother, Alan.
John completed his basic education from Bombay Scottish School. He was brilliant student in school and was captain of the soccer team. He joined Jai Hind College to complete graduation in economics and then completed his Masters at Mumbai Educational Trust.
More On Bollywood
Bollywood Upcoming Movies
Bollywood Stars Biography
Bollywood Stars Latest Event Gallery
Bollywood Top 10 Songs
He joined as a Media Planner at Enterprise-Nexus, an Ad agency in Mumbai. According to reports, one day a model did not turn up for shoot and John got the chance to fit his place. With this he started his career in modelling.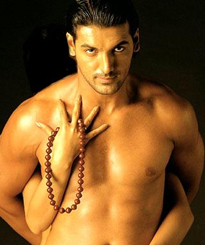 John Abraham actually began his acting career when he was offered a role by the producer Pritish Nandy. Though the project was shelved after some shooting, it gave John the opportunity to hone his acting talents.
John made his debut in Indian film industry with Jism, released in 2003 for which he got huge appreciation. After that the talented star appeared in films such as Saaya' (2003), 'Aetbar' (2004) and 'Paap' (2004) but these films did not do well.
John gained huge fame in 'Dhoom' (2004), which was a runaway success and his villainous role of 'Kabir was highly praised. Other films of John like; Kaa', Viruddh, Water and Garam Masala were average. In 'Garam Masala,' John played a comic role and was praised by the audiences. In 'Water,' he gained critical appreciation.
In 2006, John Abraham appeared in "Rockstars Concert", along with Salman Khan, Zayed Khan, Kareena Kapoor, Esha Deol, Shahid Kapoor and Mallika Sherawat.
In acting career, John gave many super hit movies such as; 'Dhoom', 'Jism', 'Dostana' 'New York'. The success of these movies gave him huge popularity and he has become well established star in Indian Cinema.
In August 2013, John Abraham was seen as an actor-producer in the movie "Madras Cafe." His is role as an undercover officer was much appreciated, though the film courted controversies.
John has been honoured with Rajiv Gandhi Award for his achievement in Bollywood. In his personal life, John had a long relationship with actress Bipasha Basu but recently they had a break-up. John is fond of bikes and he loves to ride them.
John abraham Latest News