Kollywood Cinema
Kollywood 2015 - An overview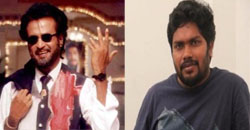 Thanks to novel content and modern techniques of cinematography, Kollywood may well turn a new corner in 2015. Moreover, top guns of Tamil cinema - Rajinikanth, Kamal Haasan, Vijay and Ajith - are in great form having lined up a slew of projects in the months ahead.
But the news that is spreading like wild fire is that young director Ranjith of Attakathi and Madras fame has got his story okayed by Rajinikanth who was reportedly awestruck during the storyline narration by this director. Having secured the dates from the superstar, Ranjith will direct this yet-to-be titled film which will be produced by Kalaipuli Thanu.
"You just wait for the official announcement. Everything on the project will be clarified then," said the director when queried by the media on whether he will direct Rajinikanth's next film.
Besides Ranjith's project, Rajinikanth is under discussion with directors Sundar C and Shankar (for Enthiran-II) - that makes three in a row for the superstar in this year. Whereas Kamal Haasan basking in good box office report on his period film Uttama Villain, has already done two more films for release in 2015 - Papanasam (remake of a hit Malayalam flick) and Vishwaroopam-2, a sequel to its first edition.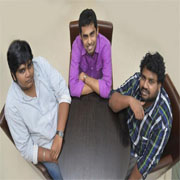 A new breed of highly talented directors have created a niche for themselves in Kollywood. Newcomers like Balaji Mohan, Nalan Kumaraswamy, Karthik Subburaj and Balaji Dharanidharan have broken the stereotypes in filmmaking by venturing into bold and innovative formats in storytelling, earning plaudits and commercial success at the same time.
While it is accepted that big budget actors like Ajith, Vijay, Surya and Dhanush still bank of established directors (Gautham Vasudev Menon, Murugadoss and Lingusamy et al) to commit their projects, the audience are shifting slowly to watch films directed by a new crop of youngsters who have original content, are highly creative and willing to work hard to reach out to the masses with a product that offers value for money.
Nowadays, Tamil films depend on not just theatrical collections alone for they have diversified sources for income generation like overseas market (the US, Dubai and Gulf, Malaysia and Singapore), audio and musical rights and satellite channels' rights, all of which have grown into mega money spinners for Kollywood in recent years.
Content is the king in Tamil cinema for nobody wanted to go to a movie hall to watch a third rate stuff that is boring and smacks of amateurish handiwork. Second, how the director with the backing of the producer is able to package his story with enough quota of fun, frills and oodles of entertainment to make it a wholesome enjoyable affair is very critical for the success of the film.
Finally, the right amount of marketing and timing of a film's release have a bearing on its box office collections. If there is no outdoor and media publicity, there is every possibility that an average middleclass family will miss out on a film, even if it is termed good and positive by reviews.
It is up to the filmmakers to oversee that their films are released without hitches at the last minute for weekend earnings starting from Friday will make or break a Tamil film in these uncertain times where a family has got a variety of entertainment choices like sports, cricket IPL and theme parks like Mayajaal and Dizzee World to get value for money.
Kollywood History
Kollywood Silent films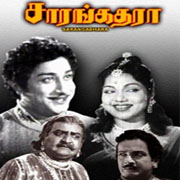 In 1917, R. Nataraja Mudaliar took the first baby steps by making Keechaka Vadham, a silent film, and thus started the Tamil film industry in a modest way to entertain its masses. Having trained in London, he came back to produce, direct and double up as cinematographer too in the films he made during the silent era period.
With roaring success of the first silent film in Tamil, other movies were made notably by Prakash Raghupathy. Mythological films like Bishma Pratigna, Sarangadhara, Bhoja Raja and Gajendra Moksham struck a chord with the public who were yet to get used to the idea of motion pictures on a big white screen. Censor Board was established in Madras in 1918.
Tamil Cinema 1931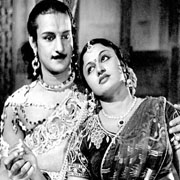 The first Tamil talkie Kalidas (1931) was directed by H.M. Reddy and produced by Ardeshar Irani's Imperial Movie Tone. As it was produced in a hurry, there were many technical flaws and the artistes spoke both Tamil and Telugu. T.P. Rajalaxmi who starred in Kalidas was a stage artiste and she become popular overnight with this release and went on further to make movies herself.
Tamil Cinema 1932
However, it was left to P.P. Rangachari to direct the first 100 percent Tamil talkie Kalava (Rishi) in 1932.
Tamil Cinema in 1934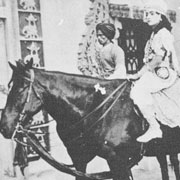 Mega hit Pavalakkodi (1934) gave birth to Tamil cinema's first super star M.K.Thyagaraja Bhagavathar who mesmerised the movie goers with his stentorian voice and songs that made him a household name for long. Pavalakkodi was shot on a largescale and brought a sea change in the shooting format in Tamil films.
Until 1934, Tamil movies were made either in Bombay or Calcutta. But the film Srinivasa Kalyanam shot entirely in Tamil Nadu by Srinivasa Cine Tone changed this practice and then on all films were made in the state only.
Tamil Nadu Talkies entered into the scene with Lava Kusa produced by S. Soundararaja Iyengar. The company made a number of box office hits on mythological subjects for which is a steady, growing market.
Kollywood Cinema 1935
Nandhanar has the unique distinction of being remade four times in Tamil with stage artiste K.B. Sundrambal though a woman (at that time they were not encouraged to take part in filmmaking) played the lead role. It is to be noted that the producer paid her a bounty of Rs one lakh which created ripples at that time as the amount was unheard of at that time.
Kollywood Cinema 1936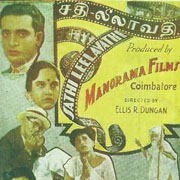 Social comedy was incorporated in Tamil movies which attracted people in droves to movie halls. They were even released as double-billings. For example: Mahatma Kabirdas - Madayargal Sandhippu and Srimathi Parinayam - Manasamy.
The producers also released a same film under two different names just to entice the public to watch the second time in theatres. For example, Srimathi Parinayam was also released under the title Srirama Janma Karanam, Chanda Mohan as Samooga Thondu and Bhama Parinayam under the name Samanthakaman.
The directors Rajachandrasekar and Ellis R. Duncan created many successful movies of that time. Ellis Duncan directed S.S.Vasan's Sathi Leelavathi which went on to become a major box-office success of the year.  A young and well-built man made a quiet debut in Sathi Leelavathi and he was none other than M.G. Ramachandran, who later on created his own destiny with charisma and heroic roles that catapulted him to the post of chief minister of the state.
\
T.P. Rajalakshmi became the first woman director in Tamil cinema with Miss Kamala. Another legend in his own way P.U. Chinnappa made his debut in Chanda Kantha directed by Raja Sandow and its story written by J.R. Rangaraju.
Triumvirate M.K.T, P.U. Chinnappa and N.S. Krishnan, a comedian who rose to dizzy heights in 1940s and 1950s era, dominated the Tamil filmdom for well over two decades, and the trio had even got the backing of huge fan following at that time. Fans and public crowded over them wherever they went and their latest films used to be the topic of animated discussion in social gatherings of that time.
Comedian N.S. Krishnan and his wife Madhuram formed a successful on-screen pair in many films and they evoked laughter and mirth among the audience.
Tamil Cinema Parasakthi(1952)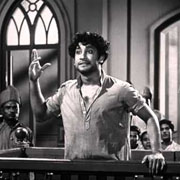 Film historians tend to divide Tamil cinema broadly into before Parasakthi and after Parasakthi for this social melodrama ushered in a revolution of sorts in Tamil society and the general attitude of the masses of that time.
Legendary actor Sivaji Ganesan made a sparking debut with a dialogue delivery that became an instant hit with the masses. However, the director duo Krishnan and Panju during the shoot had reservations about this young man make his film debut as the protagonist.
But the producer P.A. Perumal stood like a rock in support of this struggling artiste who had to go through many ordeals before facing a camera in this epochal film that stirred many established notions in Tamil Nadu on issues like caste, God, community, wealth and progress.
Much credit should go to DMK chief M. Karunanidhi who penned those fiery dialogue and screenplay in Parasakthi for it led to a social transformation of sorts in Tamil Nadu.
Sivaji-MGR, Rajini-Kamal, Ajith-Vijay: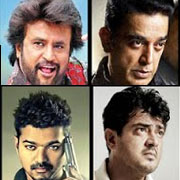 Star power drives box office collections in Tamil Nadu. If Sivaji Ganesan-MGR dominated the scenes from 1950s-70s, then Rajinikanth-Kamal Haasan duo rode to pinnacle of success in the 80s and 90s.
Of course, both Rajini and Kamal owe much to their mentor director K.B. Balachandar who introduced many top heroines, heroes and character artistes in the 80s period.
Tamil cinema moved out from studios to evergreen pastoral settings with the advent of 16 Vayathinilae (1975) directed by maverick Bharathiraja who used rural backdrops for his narration in films.
It was K.B.-Bharathiraja-Balu Mahendra trio who delivered several memorable hits and movies with a directorial finesse that showcased versatility in a nuanced manner to the movies goers.
Kollywood Business
Digital revolution
Today anybody with an idea and passion can make a short Tamil film, thanks to an array of digital tools and innovation that have proliferated in Kollywood.
With digital support systems, a new generation of filmmakers have changed the dynamics of Tamil cinema. Youngsters try their luck in short films and if they click, they plan a feature film with a well-written story and plot in a shoestring budget for which there are distributors and ready market in A, B and C centres.
The failure of star cast films at the box office in recent years and great response to a spate of low-budget movies with novel scripts have turned business on its head in Kollywood.
Even well-known producers are now averse to bet their money on big stars and are more open to finance a film with newcomers as the risk is less and one can get assured returns if the subject is dealt with nicely by the director.
Unlike in the 80s and 90s, it is enough if a movie runs to packed houses during the opening weekend (Friday to Sunday) and then on even if it gets average crowd, they will get back the money invested in that film's production.
The advent of social media like YouTube, twitter and Facebook have worked to the advantage of new age films in Kollywood. For before booking tickets, audience use to see the film's trailer or read the latest comment on it to judge whether it is worth going or not.
Moreover, screening movies for just one or two shows in multiplexes to judge the audience's reaction is come into practice now. If the film is well received, then they can increase the number of shows and screens across the state to cash in on the market response.

Film industry is now more open: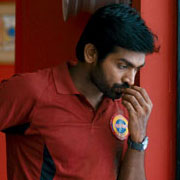 Newcomers in the industry like Vijay Sethupathi feels that is now easier for aspirants to get a break in the films than say a decade ago.  With digital tools that are inexpensive, producers are willing to experiment with new ideas and new faces in the silver screen.
Changing profile of producers
Now corporate and individuals from diverse backgrounds enter into film production and bring in fresh concepts in the art of filmmaking. In the past, the Kollywood was rigid and one should have got experience working in film units before getting a chance to direct a movie of his own.
But today, a newcomer with a novel idea and talent can succeed in making his debut movie with a previous experience working in film production units.