Jessica Simpson Biography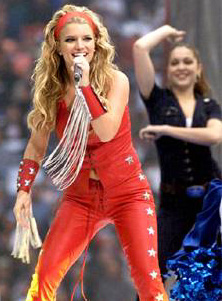 A church choir singer, pop diva, actress and fashion entrepreneur, besides a popular MTV reality show star.
Welcome to the world of Jessica Ann Simpson who is best known to theworld as pop singer and owner of designer stores selling apparels, accessories and more.
Early days in film career
Jessica Ann Simpson (Born: July 10, 1980) groomed her voice at the local Baptist church choir in Abilene, Texas.
She made an attempt to enter the Mickey Mouse Club when she was 12 years.
However, she became popular in the Christian music circuit as she was promoted by a music label which noticed her talent at a church camp.
Her father and mother helped her in her musical journey as Simpson signed up with record label Sony and began touring with boy bands in late 1990s.
Finally, she released her first album Sweet Kisses (1999) and her second Irresistible (2001) with her single I Wanna Love You Forever becoming a big hit.
However, her albums fell short of major success with a rather muted response for her musicals.
In a way being a contemporary of legends like Jennifer Lopez, Britney Spears and Christina Aguilera made the situation very tough for her in the musical albums.
Success in TV reality shows
Simpson's career got a boost only after she married 98 Degrees singer Nick Lachey and the newly married couple starred on the MTV reality show Newlyweds.
The reality show followed the couple in the first two years after their marriage and the programme soared in TV rating points with good viewership.
Cashing in on the reality show,Jessica Simpson re-released her third album In this Skin in 2004 which was an instant hit with MTV audience.
In the same year, they produced and hosted a Saturday night show called The Nick and Jessica Variety Hour on ABC which became popular at that time.
A lead role in the film Dukes of Hazzard (2005), a remake of a popular TV series, was her debut performance in the silver screen.
Undeterred by dud films
However, Simpson and Lachey filed for divorce by the end of 2005. Her career became listless as her films got very little notice.
She paired with comedian Dane Cook in Employee of the Month (2006) which flunked at the box office and her new album A Public Affair (2006) was given a miss by the audience.
She went back to church choir music and crooned for a single Do You Know (2008). This number was included in her album that was among the top five in the Billboard's charts.
In fact, she was associated with the lyrics of the album songs which featured a duet on the title track. Her reality show Jessica Simpson: The Price of Beauty (2010) explored fashions, beauty trends and facial treatments. She released a holiday album Happy Christmas in the same year.
A successful fashion entrepreneur
The singing career was edged out by her fashion empire which generated sizeable revenues. Her namesake chain stores of clothing, accessories and shoes have become a money spinner yielding a sales income of nearly $750 million in 2010.
But she returned to reality TV in 2012 as a mentor for a designer competition show titled Fashion Star.
Marries long-time boyfriend
Simpson was dating former American football player Eric Johnson and the couple got their first child, a daughter Maxwell Drew Johnson on May 1, 2012.
The live-in couple had their second child, this time a baby boy Ace Knute Johnson on June 30, 2013.
When Simpson announced that she was pregnant for the second time, it led to speculation over the deal she had signed with Weight Watchers.
She reportedly loss over 60 pounds in the fall of 2012 and signed on to become the official spokesperson of this global weight loss company.
Finally, Simpson tied the nuptial knots with Eric Johnson at a ceremony in California in July 2014.
Jessica Simpson Image Gallery

Jessica Simpson Photo Gallery

Jessica Simpson Picture Gallery

Jessica Simpson Image
Jessica Simpson News