Jessica Alba Biography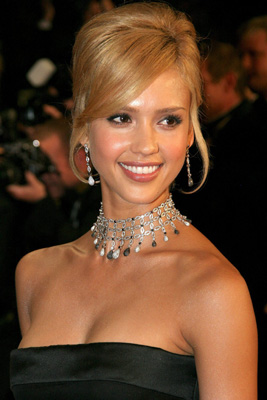 Her role in the TV soap Dark Angel and the character of Sue Storm she played in the Fantastic Four movies made Jessica Alba a filmcelebrity in her own right.
She experimented with different roles in films to hone her acting skills and is determined to climb the ladder of success.
Rich experience in childhood
Jessica Alba (born: April 28, 1981) has to move around places during childhood living in California, Mississippi and Texas, before returning to her state of birth.
She was born in Pomona, California to a Mexican-American father and her mother with Danish and French roots.
As her father worked in the US Air Force, he took the family with him to places where he was assigned the next project.
The young Alba thus got exposed to new places and people at childhood stage itself.
Alba studied acting in her teens and got her first role in a comedy flickCamp Nowhere (1994). In between her formal education, she worked as a model and also did some commercials.
A recurring role in the TV series The Secret World of Alex Mack, a teen comedy, gave her an opportunity to fine tune her acting skills as she donned the character of a girl who is gifted with special powers.
She was also part of the aquatic adventure series Flipper which was shot in Australia.
Her moment of glory
Finally, Alba got to do a lead role in the sci-fi TV series Dark Angel (2000).
The series was created by popular director James Cameron and Alba played the role of a genetically modified young girl (Max Guevera) working as a bike messenger.
Dark Angel was set in Seattle 2019 (after a catastrophic event) with the plot centredon her efforts to search for others who had escaped from the genetic research project and the efforts of the government to capture her.
Alba was cast opposite Michael Weatherly playing the role of a journalist named Logan Cale.
Both Alba and Weatherly developed a good relationship during the shooting and were allegedly engaged for some time.
Despite earning good reviews, Dark Angel could continue for just two seasons.
Big screen appearances
Banking on her popularity through Dark Angel, Alba got a big screen offer in Honey (2003) in which she was a hip-hop dancer.
Once again she played the role of dancer, this time as a striper in Sin City (2005).
In Fantastic Four series (2005), Alba brought alive the comic character Sue Storm.
This character, one of the four astronauts, gained super humanpowers after being exposed to cosmic rays.
She also acted in the same role in the 2007 sequel 4: Rise of the Silver Surfer.
Deviating into water-based themes, Alba played the role of sea diver in Into the Blue (2005) and lands in trouble after unearthing a sunken plane.
Then Alba ventured into romantic comedy in Good Luck Chuck (2007) acting alongside lead Dane Cook.
But these two films,Into the Blue and Good Luck Chuck did not fare well at the box office as they could not attract the audience.
Furthering her experimentation, Alba did a lead role in The Eye (2008), a remake of Japanese horror film.
The protagonist gets an eye transplant which produces some unexpected side effects.
Alba was part of a social comedy The Love Guru (2008) directed by Mike Myers.
Jesssica Alba Family life
In May 2008, Alba married her long-time friend Cash Warren in May 2008. The couple met on the sets of The Fantastic Four.
Alba has a daughter Honour Marie Warren.
Jessica Alba Image Gallery

Jessica Alba Pics

Jessica Alba Gallery

Jessica Alba Wallpaper

Hot Jessica Alba Galleries

Jessica Alba Pic

Jessica Alba Picture

Jessica Alba Poster

Jessica Alba Dark Angel

Pictures of Jessica Alba

Images of Jessica Alba

Jessica Alba Galleries

Images of Jessica Alba

Hot Jessica Alba Galleries

Jessica Alba Hot Images
Jessica Alba News