Jennifer Aniston Biography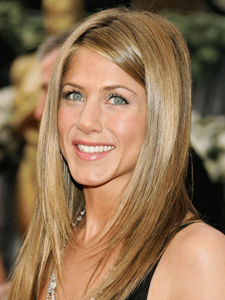 Millions of TV viewers around the world know her only as Racher Green in the popular NBC soap Friends that went on air for nearly 10 years.
You guessed it right. She is none other than Jennifer Aniston. She is no stranger to controversy as her numerous dating and failed relationships have been much talked, written about in the media.
Theatre artiste
Born on February 11, 1969 in Sherman Oaks, California, Jennifer Joanna Aniston is the daughter of soap opera star John Aniston and actress Nancy Dow.
Jennifer Aniston Popular TV show
Her popular TV show Friends did not happen overnight. She had to struggle through with several of her minor film and TV roles not getting the recognition she expected from them.
But Aniston hit the jackpot in the role of Rachel Green on the blockbuster NBC sitcom Friends. In the US, Friends was dubbed a grand success with many viewers terming the hairstyle of Aniston in that sitcom as truly "Rachel".
Aniston was so popular in the 10-year show that she was given anastounding sum of $1 million per episode for the last 3 years until the soap ended in 2004.
Moreover, she won a Golden Globe and an Emmy Award during her stint on the Friends.
Box office hits with romcoms
Aniston strived her best to make a big impact on the big screen. She took up a both small, independent films (Office Space, The Good Girl) and big-budget productions like Bruce Almighty with Jim Carrey in the lead.
Her notable films include Along Came Polly (2004) opposite Ben Stiller, Derailed and Rumor Has It. Aniston produced an ensemble movie Friends with Money (2006) which got good reviews at Cannes and romantic drama The Break-up.
She also starred opposite Owen Wilson in Marley & Me (2008). In fact, Marley & Me created a new record of largest Christmas Day box office collection with over $14 million in ticket sales alone and ranked No. 1 as chart buster.
Another film He's Just Not That into You (2009) made $27.5 million and ranked No. 1 in its opening weekend at the box office. Despite the film getting a mixed response, Aniston drew all-round praise for noteworthy role.
She continued with her mix of romantic comedies and social satires for which there are ready audience in the US.
Then came Horrible Bosses (2011) in which Aniston shared the screen space with Jason Bateman, Colin Farrel and Jason Sudekis.
It was reported at that time that she was romantically linked with Sudekis with whom Aniston worked later on in We're the Millers(2013).
Once again, she starred in Horrible Bosses 2 (2014) and got a plum role in a social drama Cake for which she got a Golden Globe nomination.
Jennifer Aniston Personal Life
Jennifer Aniston's marriage with Brad Pitt in 2000 ended in divorce 5 years later as he was allegedly having an affair with popular actress Angelina Jolie.
From then on, the Friends star, it has been reported, has had a series of relationship with The Break-Up co-star Vince Vaughn, musician John Mayer and SNL cast member Jason Sudekis.
In August 2012, Aniston got engaged to American actor and director Justin Theroux.
Theroux has done a number of roles in comedy films including Strangers with Candy (2005), Your Highness (2011) and Wanderlust (2012) which also stars Jennifer Aniston.
It was reported that Aniston and Theroux had postponed their wedding plans as they differ in their place of stay post-marriage.
Jennifer Aniston wants to live in Los Angeles, while Theroux is keen to live in New York City.
Jennifer Aniston Image Gallery

Jennifer Aniston in Mankatha

Jennifer Aniston in Manmadhan Ambu

Jennifer Aniston in Vinnai Thandi Varuvaaya

Jennifer Aniston in Sarvam

Jennifer Aniston

Jennifer Aniston

Jennifer Aniston Style pic

Jennifer Aniston Cute pic

Jennifer Aniston Cute

Jennifer Aniston With Brad pitt
Jennifer Aniston News