Christian Bale Biography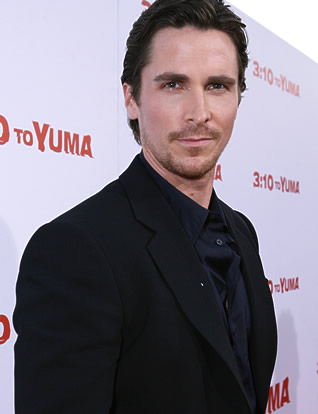 Here is an actor who picked up the roles after much deliberation earning plaudits for realistic portrayal of characters.
Born on 30 January, 1974 in Wales, Christian Bale played the lead role as a vagabond child in Empire of the Sun (1987) directed by Steven Spielberg.
Though Batman series made him popular, Bale has many versatile roles to his credit.
Family background of Christian Bale
His family has been in the acting business for years.
Bale's mother was a dance cum clown, while his older sister was asmall time actress.
His grandfather was a stunt double for actor John Wayne in the film Hatari (1962).
Spielberg picked Bale out of 4,000 other youngsters to play thepart of Jim Graham in Empire of the Sun.
Rise of exceptional talent
Bale's remarkable performance as a wandering child in Empire of the Sun won him praise, awards and recognition.
In 1994, Bale did a supporting role in the film adaptation of the Louisa May Alcott classic Little Women.
However, he has to wait for six more years till he got noticed as aserial killer in American Psycho (2000) that fully exploited his acting skills.
His Batman Begins (2005) and The Dark Knight (2008) made him a blockbuster star.
Supporting roles
Bale took up supporting roles in the early daysof his acting career to hone the skills.
He did a small part in the adaptation of Shakespeare's Heny V (1989) by Kenneth Branagh.
After a gap, Bale did a project Newsies, 1992 musical onstreet boys who delivered newspapers.
This film produced by Walt Disney Pictures was a box office flop.
Once again, in 1994 Bale did a supporting role in the filmadaptation of the Louisa May Alcott classic Little Women.
Another literary role Edward Rosier was enacted by Bale opposite Nicole Kidman in Henry James's The Portrait of a Lady (1996).
He teamed with Branagh for A Midsummer Night's Dream (1999) to do a meaty role as young Demetrius.
Critical acclaim, recognition
American Psycho proved to be turning point in the film career of Christian Bale.
The role of Patrick Bateman, an investment banker who turned sadist in the night, was much discussed by the film fraternity.
Bale had to physically change himself to develop a physique reflecting the character.
For The Machinist (2004), Bale had to shed 60 pounds to resemble the lead character of a mentally ill man.
Taking a quick U-turn, Bale had to put on weight to play the super hero role of Batman in Batman Begins (2005).
As Batman he befittingly reprised the sterling roles once played by George Clooney and Michael Keaton.
He took up diverse roles as an ex-army ranger in Harsh times (2005); John Rolfe in a historical drama The New World (2005); and captured American pilot in For Rescue Dawn(2006)
Bold and experimental films
Bale co-starred opposite Hugh Jackman in The Prestige (2006) as the duo played rival magicians based in England of 19th century.
Christian Bale was one of several actors to portray folk music legend Bob Dylan in the experimental film I'm Not There (2007).
Bale and Health Ledger, a legendary actor, had a chance to work together on the second edition of Christopher Nolan's Batman series -- The Dark Knight (2008).
\
But Ledger died in January 2008 before the film's release and Bale was shell shocked as the two have become good friends.
In 2009, Bale did the role of John Connor in the Terminator Salvation. He also acted in the film Public Enemies on the mobster John Dillinger.
Bale received a Golden Globe nomination for his performance in The Fighter (2010). In 2012, Bale joined with Christopher Nolan for his third Batman film -- The Dark Knight Rises.
Christian Bale Personal Life
Bale prefers to keep his personal life out of public glare, but was accused of assaulting his mother and sister in 2008and was briefly held in custody.
Christian Bale was married to a producer Sibi Blazic since 2000 and have a 10-year-old daughter Emmeline and a son born in 2014.
Christian Bale Image Gallery

Christian Bale

Christian Bale

Christian Bale

Christian Bale
Christian Bale News